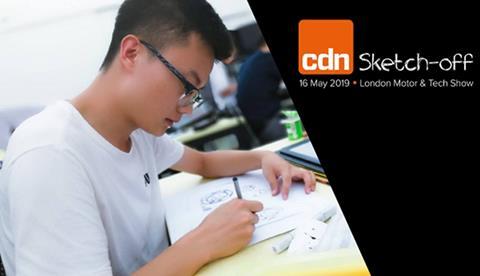 Encouraging the next generation of designers is CDN's most important mission, and we are organising another event to put student talent in the spotlight. Hard on the heels of the CDAC (China design student competition) we are organising the first ever CDN Sketch-off at the London Motor & Tech Show (ExCeL) on Thursday 16th May. (Motor shows are also our natural habitat…) The Sketch-off will see aspiring car designers from the leading design schools in the UK sketching to a brief (titled The next Bond 'car') and judged by experienced heads of design from leading carmakers. This year's event is being hosted by Mike Brewer.
Six universities (who have specialised Transportation Design courses) are sending two students each, all of whom will be judged by world-renowned car designers – Stefan Sielaff from Bentley, Martin Uhlarik from Tata, James Watkins from Land Rover, Carl Gotham from MG SAIC and more from Geely Design UK and Nissan.
The winning students will win cash and a subscription to CDN – and more importantly, some live feedback from the judging line-up.
For more information, see: https://cardesignnews.com/cdn-sketch-off. This event is being made possible by key suppliers in the automotive design space Bridge of Weir, Forge Design and Ultrafabrics.