CDN is proud to announce the winners of the 11th CDN Student Awards China, celebrating the best Chinese design talent for 2020. Due to the global pandemic, unfortunately, we can't host the traditional physical Award Ceremony. However, you can join us for the first-ever Virtual Ceremony and discover who are the 8 winners of the OEM briefs and 10 category winners, selected by our elite judging panel. From the 10 category winners, we will announce the prestigious Overall Winner for 2020.
CDN荣幸地宣布第11届中国汽车设计大赛颁奖仪式即将举行,以表彰2020年度中国最佳学生设计人才。因全球疫情影响,传统的现场颁奖典礼无法举行。但是,我们邀请你参加有史以来首次的"云颁奖"仪式。活动将揭晓本届第一次产生的8位主机厂"任务书获奖者"和10位"单项奖获奖选手"。获奖选手由汽车行业设计主管和设计院校专业人员组成的精英评审团经过几轮甄选脱颖而出。活动还将公布本届大赛的全年总冠军。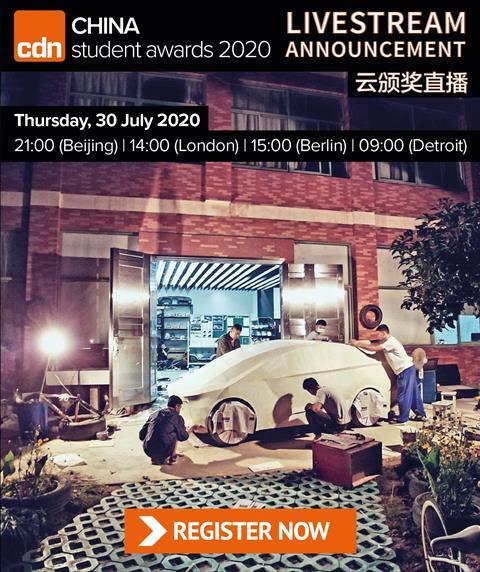 Whether you are a student, a carmaker, or want to be inspired by the creative talent coming out of China, join our Livestream Ceremony on July 30th at 21:00 Beijing time, 14:00 London, and be part of the celebration.
无论您是学生, 主机厂还是想得到来自中国年轻的创意设计人才的启发;支持中国汽车设计,请在北京时间7月30日晚9点跟我们一起参加"云颁奖"庆祝活动。
The 15 Judges spread across seven countries, gathered in a virtual meeting to complete the final round of live judging of the student work for the CDN Student Awards China competition. The Judges and the CDN team looked at the best work submitted by some 330 students in China, from 133 different universities/colleges.
There have been three stages of judging, culminating in the Judges selecting their category winners (for 10 categories) and the overall winner. The standard of work submitted in this competition continues to impress the Judges and many noted how the standard of work keeps getting better each year.
The overall winner receives A 15-week semester on The Advanced Design Study Abroad Program at the College for Creative Studies in the USA, including free travel, a one-year school subscription to Car Design News and Interior Motives magazine, $500 for the winning team and the opportunity to intern with one of the Award Sponsors.
Category winners win $500 per team, a one-year cardesignnews.com subscription, and incredible intern opportunities.
This unique competition allows Chinese design students to work on designing vehicles according to an imaginative set of briefs created by eight automotive companies, before the winners are awarded at the virtual Awards ceremony on July 30th, at 9 pm Beijing time.
REGISTER NOW: CDN Student Awards China 2020 Announcement
Thursday, 30 July 2020. 21:00 (Beijing) | 14:00 (London) | 15:00 (Berlin) | 09: 00 (Detroit)
Automotive Festival of Transformation
Throughout this Spring and Summer, we are playing host to an array of online live streams, discussions, and thought leadership. Bringing you insight and intelligence to help facilitate necessary change and transformation in your business.
We will also be publishing a wealth of exclusive features, interviews, analysis and guest contributions (you too can get involved) to get you ready for the challenges