Expert designers from across North America came together to discuss key themes that are changing the complexion of car design in 2022 and beyond
Focusing on the tagline 'towards a sustainable future', Car Design Dialogues North America 2022 kicked off in style with a design review of Ford's F-150 Lighting, led by Ehab Kaoud and Mark Sich. CDN editor James McLachlan posed the question, "How do you reinvent a classic, and what design opportunities does a shift to EV afford?"
"When you think about this vehicle, it's all about a relationship – the relationship between Ford and its customer base," explained Kaoud. "We have listened to what our customer says, and then acted upon what we are hearing. It's what we've been doing for the past 40 years, and we have been rewarded with the best-selling vehicle."
The two designers discussed the finer details of the new model, running over everything from the lightbar on the front to the way in which information is displayed on the different screens inside the car. "We wanted to make sure it is all harmonious," said Sich. "We worked on both the physical and the digital elements, and made sure that the two talk to each other and feel like they are all designed together."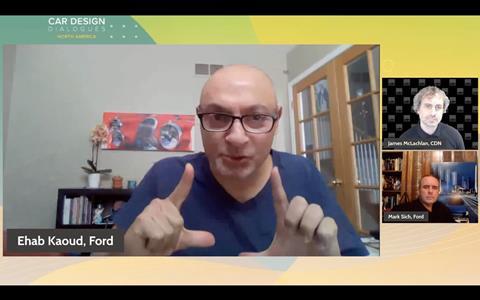 Tackling the tricky topic of homogenisation, a group of expert designers and journalists was brought together for the 'Where next for SUV design?' panel debate. Derek Jenkins provided an exclusive glimpse into the thought process behind Lucid's approach to SUV design, even though the company has yet to launch its debut in the segment.
"The whole point of an SUV is to take away all the compromises that a consumer needs to make," he said. "They can use the vehicle any way they like, and have this awesome experience. The challenge as a designer is what the darn thing will look like, and how we make the design of the vehicle express its diverse capabilities and attributes."
Following on, Autodesk examined changing customer demands with special guest Derek Jenkins. "The expectations are very high on the consumer side in terms of what they expect from the vehicle and the user experience…connecting and data transfer, bluetooth – you name it," said Jenkins. "People are conditioned by the digital experiences in their lives and it puts a lot of pressure on car companies to bring the digital experience at least to that level. They are also expecting rapid change, which pushes car companies to do updates over the air. It is being driven by the consumer and it is up to us to step up and meet that demand."
Another panel debate saw the discussion turn to interior design, and specifically the way in which data is being leveraged to connect with the consumer. Designers from GAC, Hyundai, Lincoln and Stellantis considered their individual approaches to collecting data, and how it is then used to create a unique in-car experience. But with this opportunity comes a key challenge – ensuring the driver and passenger are not overwhelmed by information when data is presented on screens and via voice alerts. It's a topic that will likely grow in importance as data continues to inform the design of all systems and parts of the vehicle interior.
To wrap up day one, Ralph Gilles, chief design officer of Stellantis, sat down with CDN editor James McLachlan in an exclusive fireside chat to talk about his influences, his career to date, and the next step for the many brands that come under his remit. Gilles also gave his estimate for EV adoption, and explained how his design teams are working to snap up a portion of the market.
"Today as we stand, the market is only at about a 3% take rate, but we predict by the late 2020's it'll be around 40%," he said. "Regardless of what it is, we need to be tastemakers. We aren't rushing to market, but instead are developing very carefully. As we speak, I'm working on more than seven electrified vehicles simultaneously. The reason we are doing it all at once is that we are working on a new platform called STLA Large. It's very exciting, and I believe if we come with the right cocktail… today, most electric cars are very expensive and out of reach to the average person. We aren't listening to the noise, and we are focused on creating EVs that people can afford."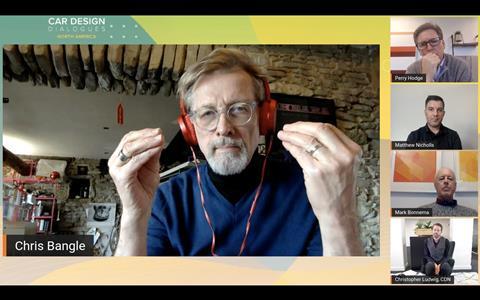 Heading in to day two of the event, design legend Chris Bangle was joined by experts from Ultrafabrics, Steelcase Inc and Tapis Corporation to talk about sustainability in design. "When we talk about circularity, we only really understand recycling as the breakdown of materials into constituents that can be rebuilt to a completely new thing," Bangle mused. "But so much energy goes into making it in the first place, and maybe more energy breaking it down and rebuilding it the second time around. What we need is design that can travel in time – to design two or three cycles out, making a product for a purpose but ensuring it can also be completely repurposed again and again."
As well as data-driven design, a key theme of the event was the evolution of the human-machine interface (HMI). In a panel discussion with expert designers from BMW, GM and Rivian, Doug Wolff of Epic Games suggested that emotional connection between car and driver has shifted into the virtual realm. "For a long time, the feeling you could evoke with the car was purely from the physical build of it – either with its looks, the materials, or the way the car drove," he said. "But increasingly now, we're seeing that the software or non-physical build is changing the way in which the customer feels about the vehicle. It's really interesting to see that shift."
Going full circle, the final panel discussion of Car Design Dialogues North America 2022 was titled "Future of pick-ups". Ryan Nagode of Stellantis and Ryan Vaughan of General Motors joined writer and critic Karl Smith to discuss opportunities in the segment. "Heritage manufacturers like RAM, GM and Ford are still appealing to their base," said Smith. "Truck buyers tend to be a more conservative lot. They like the conservative typology, the functionality and ruggedness. The pick-up is the inheritor of the cowboy myth in America – the cowboy and his faithful horse. Now it's the tradesman or the farmer and his faithful pick-up. There is still a strong impulse for that to carry forward in much of America. The Rivian R1T and Canoo Pickup trucks aren't necessary your faithful horse, but your surfing or camping buddy. They are lifestyle trucks. There is a subtle but very important difference."
Pierre Maheut from Adobe and Onur Dursun, founder of Duron Automotive gave a comprehensive demonstration of X-Taon showcar providing insight on how to use Substance 3D apps to create pictures for official press kits and communications. Dursun created everything from realistic urban environments to a polished and slick-looking car interior using the design software.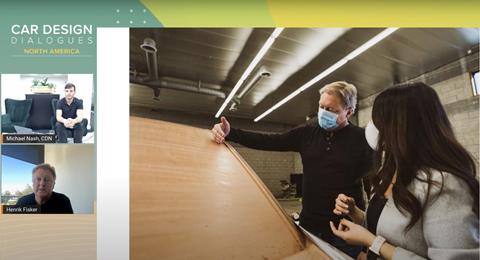 Following that, Henrik Fisker offered the viewers some insights into the Ocean SUV, which was first seen at LA Auto show in 2021. Fisker explained how tried and tested design techniques came together with the latest design software to create the car. "I am a big believer in clay models, both scale and full-size. Obviously, digital modeling is great because you can move large surfaces very quickly to fulfil some regulation. What we do is mill a full-size model and then spend a lot of time refining the delicacy of the surface by hand. We have sped up the process a lot. If we change and entire body side, for example moving it out 8mm, we don't do that by hand. We slam some clay on it, get it in the digital model, make sure the sections run correctly according to engineering. Then we spend time fine-tuning with our modellers and that is when you get design and sculpture coming together to do that final refinement."
To close the event, Larry Erickson of Magna Exteriors connected with CDN publisher Abel Sampson to announce the brief of the 2022 Magna's Global Bold Perspective Award. Students have been tasked with designing what Erickson describes as "the living vehicle", with the key topics of sustainability, exterior innovation, and electrification central to the brief. Winners should be able to clearly illustrate how the vehicle can be used, how it operates within its environment, and how equipment and cargo are stored.
"During the last 20 months we have all witnessed a changing world and have experienced first-hand new relationships with how we live, work and play," said Erickson. "Vehicles have taken on new roles, either as simply delivering what we need directly to our door or providing us with a refuge or a means of escape. Electrification of these vehicles and new technologies are pushing innovation to new heights."
For more from Car Design Dialogues North America 2022, be sure to check the 'Broadcast' section of the CDN website for on-demand video streaming of each session.