The GMC Hummer EV will initially be available in a single trim, with three other variants coming later in the future
GMC is taking reservations of the 2022 Hummer EV. The model is due to launch in the fall of 2021, and will come with a unique 'Edition 1' trim.
The trim includes a clean white paint job, which catches shadows and reflections, and what GMC calls a 'Lunar Horizon' interior with Edition 1 badging. A chunky rectangular inside contains three colours – white, black and gold. The white section of the dash, centre console, doors and upper parts of the seats provide a stark contrast to the matt black areas, while the gold trimmings to the air vents and screen inject colour and emphasise the strong linear feel.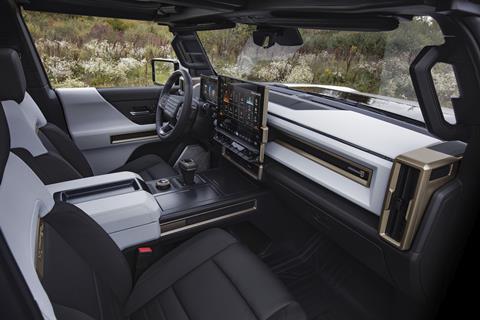 The Hummer EV also comes with an infinity roof with removable panels that can be stowed, not at the rear, but in what GMC is calling the "frunk" – a front trunk. Furthermore, power rear drop glass at the rear and a six-function tailgate will make the Hummer functional and practical.
At least three other trims will be available at a later date, the top-line of which will come with a three-motor drive system.
Phil Zak, executive global design at GM, will be providing an exclusive, deep-dive into the design of the Hummer EV at Car Design Dialogues – a new platform launched by CDN. Find out more about the programme here.