Hyundai's designers put the drama back into EV design
The Hyundai Prophecy concept has to be one of the (virtual) stars of the 2020 Geneva Motor (No) Show. A cursory glance at social media conversations – from grown-up experts, not trolls – reveals a stream of very positive comments, with favourable comparisons to the classic 1947 UrSaab and also modern-day Teslas, as well as perhaps a sprinkling of 70s Porsche 911 in the rear wing. None of which is to suggest this concept is derivative, but just confirms what we already suspected: that Hyundai's current design team have good taste, a broad palette and an increasing licence to be creative.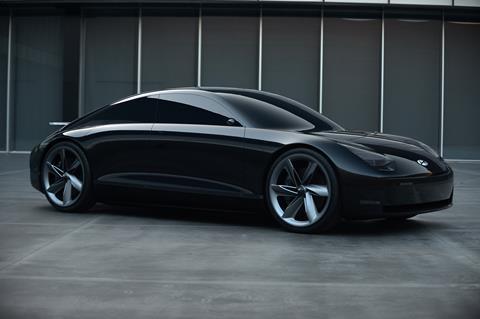 Leader of the project, Hyundai Motor's EVP and chief design officer, Luc Donckerwolke – speaking via a remote video presentation in the absence of a conventional press conference – explained the concept's importance. "Prophecy is not a just a 'firework' but something that will have a long-standing influence on future projects, he began. "It has a Dr Jekyll and Mr Hyde character, the aim being to contrast nature and technology, emotion and practicality and analogue and digital worlds to create that tension."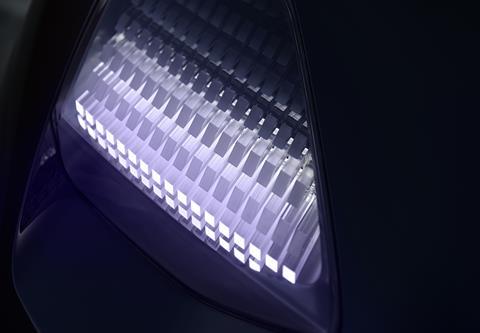 He also described the design process as moving away from the typical Latin approach widely seen since the 1970s – where the design would be developed from drawings of side-on, front-on, plan view and rear-on perspectives. "Here we went back to the 1920s and 30s where cars were sculptural, streamlined and more optimistic. We wanted to incorporate those values into the shape."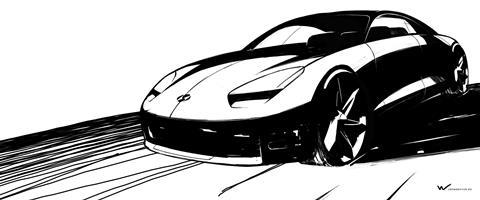 Donckerwolke calls the new approach 'optimistic futurism'. Either way, the result is certainly a very full and voluptuous exterior in a glossy paint finish – apparently influenced by the smooth shape of a black pebble – and is contrasted by detailed and technical-looking front and rear pixel lights, which the brand has already said will feature in similar form on future production cars.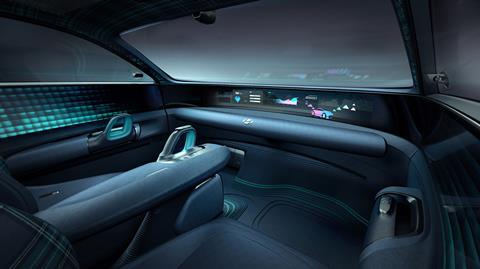 The interior of the Prophecy also presents something of a contrast – able to be very spacious due to the flat-and-long wheelbase floor of its future modular EV platform – but also very unusual for its dual joystick controls and a rather natty wool tartan check colour and trim treatment (a pattern made famous in another colourway on the VW Golf mk1). At the front of the cabin the pared-back, wing-shaped instrument panel is able to tilt from horizontal (Relax mode) to diagonal (Driving mode) with a driver display attached, while forward of it sits a car-width curved screen at the base of the windscreen which is able to play movies and more when in Relax mode.

The return of joysticks rather than a conventional fixed steering wheel (or even a retractable one) is an interesting take on the control of semi-autonomous-to-autonomous cars of the future, but a technology that has been proposed on many concepts before without seeming to gain much traction. For Donckerwolke the tech obviously has the benefit of freeing up space but he also said that Hyundai worked with RWTH Aachen University on their functionality for this concept, to the point where he claimed, "90% of the commands can be executed though the two joysticks," before conceding, "we have some doubling of functions for security like the foot pedals."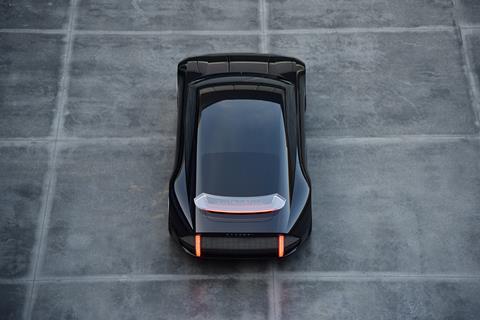 The dome-like fully-glazed cockpit also hides function not visible in the pictures or video as Donckerwolke continued: "The double glazing incorporates a clean air purifier, but on top of that a thermic cushion which allows the car to use less energy for the air-conditioning by insulating you from the outside temperature." All useful traits when trying to conserve EV battery charge.

Overall the Prophecy is a truly distinctive design which follows on very well from the equally excellent 45 concept of 2019, and in a refreshingly different direction. Hopefully we can get to see more of it in the flesh soon to investigate further.
Prophecy gallery