Mad, robust and cute? Yes it is another Mitsubishi concept
Mitsubishi often takes CDN slightly by surprise at motorshows, and its record remains unbroken. The MI-Tech buggy concept, presented in a pearlised blue, screamed fun. The Mitsubishi design language of robust is clearly there – but Tsunehiro Kunimoto's team have created another iteration.
It shares many themes with the Engelberg Tourer concept, launched in Geneva earlier this year, but the 'dynamic shield' face has morphed into a more ephemeral, light-touch affair. The volumes and shapes share DNA with the Engelberg Tourer too, but seem more robot-like. The cladding around the wheelarches reminded CDN of the armour on robot-toys from the early '90s. Inside, augmented reality is deployed in the windshield where a variety of information detected by advanced optical sensing tech is projected for the driver. It also has 'active yaw control'. How cool is that?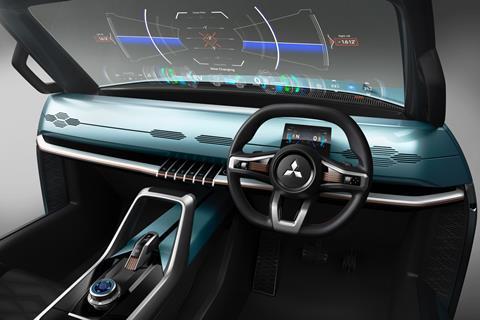 This PHEV can be charged by a gas-turbine engine, and theoretically can be plugged-in to charge, or fuelled by diesel, alcohol, even kerosene, is deliberately cute. Designed to be a capable off-roader, it can apparently rotate around on its axis like a tank(!) thanks to individual motors for each wheel. The fighter-jet style windscreen, total absence or doors and roof, and huge, 3D wheelarches firmly position this concept in the 'slightly mad' camp. But we love it. Design chief Kunimoto-san told CDN: "This vehicle is not to just attack the rough [off-road], and be an SUV. I wanted it to be more sophisticated. That is the concept, a robust buggy but cute."