Milan design week presented an opportunity to bring designers from different fields together. A collection of big names were on stage, but even more were in the audience. Here are some of the main takeaways from the show, which centrered around collaboration and circularity
Last week designers from all over descended on Milan for the annual Salone del Mobile, one of the biggest design festivals in the world. With so much going on across the city, CDN was delighted to claw so many big names over to Maserati's new Rossocorsa showroom for the evening.
On stage in front of more than 200 attendees, CDN gathered expert panellists from Baolab, Pearson Lloyd and Maserati to discuss themes such as sustainability, emerging materials and conscious innovation – and of course the inevitable topic of artificial intelligence.
A key theme raised by Maserati's head of design Klaus Busse was design longevity – the notion of designing beautiful products that last and remain desirable even as trends come and go.
"When we design a Maserati, it is not a random approach," he said during the panel discussion. "I find it fascinating that when you look at society and things that are trending, consumers often go for what they know and are comfortable with – not necessarily cutting-edge innovation."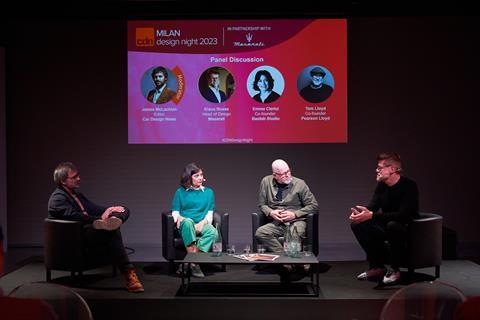 Perhaps most importantly, the discussion cast a light on the fact that designers have generally been taught to develop user-centric products, but this has come at the expense of the planet.
Moving forward, the natural environment around us should be recognised as the significant stakeholder it is. "Whether it is a car, a chair or anything else, we want to think about going from user centred to nature centred when we consider what we consume," said Pearson Lloyd co-founder Tom Lloyd.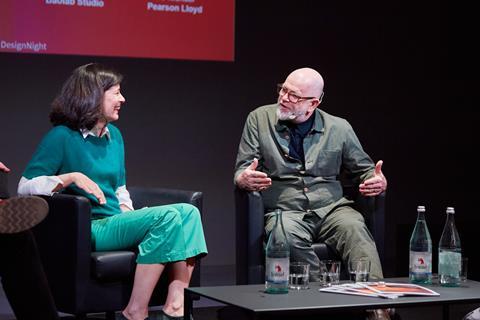 And of course, collaboration among designers of different fields was a central theme to the discussion. Emma Clerici of the Milan-based Baolab Studio suggested that designers should "surf between industries" to understand the parallels between fashion, product and furniture design.
This might shed light not only on new materials that can be used in automotive, but also different processes that could play a role in the interior. "Sustainability is not necessarily just about the material," Clerici told the audience. "It's also the about the process."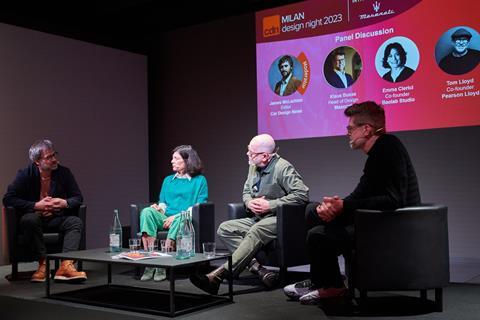 Steered by CDN editor James McLachlan, the panel represented a broad range of disciplines. Reflecting on the evening, he highlighted the obvious synergies that can result when creatives align.
Removing the discussion from its traditional car show backdrop afforded CDN an opportunity to breakout of comfortable silos
"Designers take inspiration from all manner of sources and car designers are no different in this regard. However, it is all too rare that designers from contrasting disciplines are given the space to kick around ideas, much less in a public forum," he said on stage. "This is why CDN's design night was so refreshing. Panel discussions can wind up being industry folks talking to each other, which – despite the best intentions – places a set of myopia-tinged glasses to proceedings. Removing the discussion from its traditional car show backdrop afforded CDN an opportunity to breakout of comfortable silos."
"I was struck by Tom Lloyd's point about how his studio, Pearson Lloyd, imagines the planet as a client when discussing a project," McLachlan added. "This is not a position I have heard before, but surely a position worth appreciating if not acting on."
Like design nights of old, the evening in Milan was an opportunity for familiar faces to catch up – from old friends, colleagues and tutors. And not only within the car design world, but from furniture, interior, lighting and fashion. From Chris Bangle and Peter Schreyer to influencers like Supercar Blondie, the big names certainly brought their A-game with cowboy hats, big scarfs and even bigger glasses.
While the topic of 'consumption' was prevalent during the panel discussion, it was also relevant to the after party where bottles behind the bar were certainly put to good use. Given the swanky location, there were plenty of opportunities for videos and photos – we'll be sharing some more shots from the evening soon.
If anything, the Milan design night solidified what the CDN team has been hearing first hand from designers: opportunities to catch up, collaborate and share knowledge are rare, and it takes something different to the conventional motor show to make this happen. We look forward to bringing more design nights in future – not only in Milan – to spark collaboration around the design of products that are beautiful, useful and sustainable.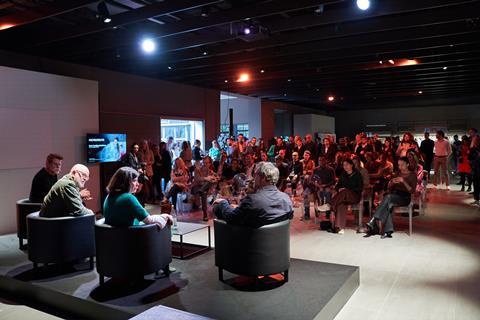 And a word of course on the Milan design week itself, which is far from establishingn itself as an automotive event just yet. But as the themes of the design night uncovered, car designers that descend on the city have plenty of inspiration in store.
Lancia was one of the few automakers that took to the streets, unveiling its new electric concept car in the flesh, along with Audi which showcased the Skysphere. Maserati also enlisted the services of David Beckham and Fragment designer Hiroshi Fujiwara to celebrate the new new GranTurismo and three one-off special editions. Then there was the Euroluce Lighting Fair, which flagged a convergence in furniture and lighting, new opportunities in LEDs and some interesting Danish and Czech displays.
To access the full range of CDN's digital and print publications, physical and virtual events and more, please subscribe by clicking here.