Highlights from the UK's biggest automotive student show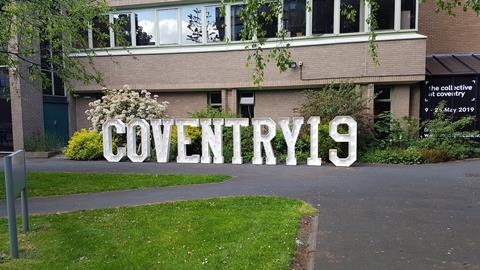 Coventry University's 2019 Automotive and Transport Degree show can always guarantee big numbers and project diversity and this year was no exception, featuring projects that covered Mars exploration, an underwater-city emergency response vehicle, and an Antarctic research and tourism experience, alongside more familiar autonomous shared transport solutions.
The students were encouraged to create compelling narratives that underpin their projects, and a good part of the final-year's study is research-focused work that runs alongside the concept creation and design development.
This focus on design narrative reflects what the transport industry expects from graduates and reinforces Coventry's vocational expertise. But it also highlights a more general shift around how 'generation alpha' expect to use and interact with future transport solutions. Product is key, but the experience is king.
Simon Goodyear-Cox needs no introduction to CDN readers, and this is his third year guiding student projects; "We're encouraging students towards more diverse projects covering many different areas of transport design for future real-world needs, as well as concepts for both the games and movie industries."
Edward Stubbs, the final-year tutor, highlights shifts in industry focus and how students are encouraged to respond and shape that future environment:
"Transport design is undergoing some pretty seismic shifts at the moment; drones as personal transport, EV powertrains opening up radical platform architectures, alongside very different ownership and usage models of cars, certainly from what my generation were used to. So it's an exciting time to be a transport designer and we encourage our students to really push innovative and radical solutions to some of the challenges we expect to see in the near future, and we think this year there were some really excellent examples of projects that make you stop and think; "why not?""
The industry-sponsored awards highlighted some of the stand-out projects and included Best Design and Innovation (Envisage) that went to Jake Lockyer for his two-seater GT that evokes the spirit of the original Grand Tour. His 'experience over ownership' theme imagines a journey planned by the vehicle itself to enrich the passengers. The minimal interior is a haven of calm and tranquillity, contrasting with the exterior drama of deep bodysides and striking pontoon front end.
Yicheng Fan's JLR-sponsored project takes the autonomous lounge to an elegant conclusion, with the vehicle completing the building, as an extension of the user's living space. This 'integrated mobility' was a trend of this year's show, and Yichneg's proposal tantalisingly blurs the boundaries between architecture and automotive interior design. With 'Nio house' a reality, Yicheng's concept was that rare project; something truly innovative but reassuringly believable.
The Contechs Steve Olney award for outstanding achievement in design and engineering was won by Oliver Ball, sponsored by JLR, who developed a vehicle that explores how experiential tourism can increase awareness of the fragility of the Antarctic environment. The idea that something so large could 'tread lightly' in this environment is challenging, but the combination of 'research hub' and 'eco tourism' is beautifully resolved, even managing to incorporate several JLR signatures into the generous surfacing.
Drive Design sketchbook award-winner Marco Gullà explores mathematical geometry in his search for new forms and surfacing, creating a bespoke piece of rolling sculpture for Villa d'Este.
Chris Longmore, MD of Drive Design; "We are proud to present this award to Marco. Creativity always begins with an idea and being able to express your ideas quickly and effectively through sketching is fundamental to a designer's everyday work. Marco was a deserving winner, as he clearly demonstrated his ideas and concepts through inspiring and engaging hand-drawn sketches."
Other projects of note included Hayden Ciesielski's narrowboat, designed to attract young buyers to the under-used environment of the UK's waterways, imagined as a modular system that can incorporate a central garden space, an office or a studio.
Alexey Andreev's Land Rover Mars explorer uses magnetised plug-in modules to create a vehicle that can potentially mine, harvest and carry cargo across the red planet. Clean surfacing and bold graphic work were stand-outs of his project.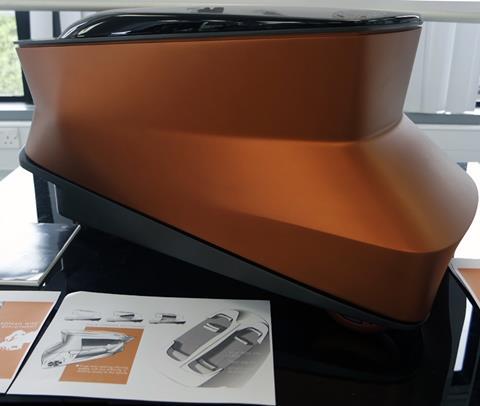 Ikenna Anugwom evolved the shared-vehicle model to create a homeless shelter, allowing users a short-term space to stay. Technical fabric stretched taut across a frame structure makes for an intriguing organic form that prioritises visual simplicity.
Other projects that caught our attention:
John Alfred Magnaye's Overview Yacht with its integrated airship designed to replicate an astronaut's experience of awe and protectiveness towards the planet, when they've seen it from outer-space.
Steven Joyce's Osaka ER vehicle.
Maserati DiAtto, by Ben Thompson (also one of CDN's Portfolios of the Week)
Tianyu Wu's cycle team-support vehicle, LeTour.