Their first African American designer was instrumental in shaping the original Ford Bronco
Ford is recognising the efforts of the first African American designer who joined their ranks, back in the 1950s. McKinley Thompson Jr. graduated from ArtCenter in California before joining the Ford Motor Company in their advanced design studio in Dearborn MI, in 1956. He subsequently worked on projects including the initial ideas for the first Mustang, plus the GT40 and a forward-control truck concept.
He also (under Syd Mead) worked on the rather entertaining 1961 Gyron self-balancing two-wheeler concept, which looks like something from the Jetsons has sprouted a wheel at each end…
Most notably, however, Thompson made a proposal in 1963 for a compact, off-road truck with short overhangs, a wheel at each corner, a removable roof, cutaways instead of doors, and a horizontal grille with a central bar across it bridging two headlights. This proposal was taken forward and developed into the first Ford Bronco. Not quite every idea made it to production – the cutaways in the bodyside were replaced with conventional doors, while the grille was also changed – but the influence is clear, nonetheless.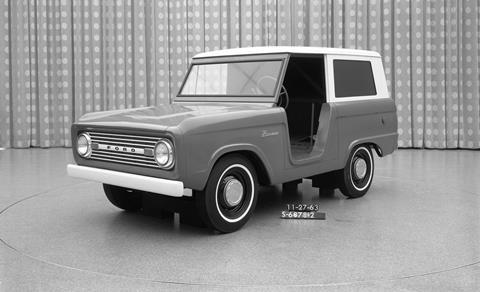 Ford Bronco interior designer Christopher Young commented: "McKinley was a man who followed his dreams and wound up making history. He not only broke through the colour barrier in the world of automotive design, he helped create some of the most iconic consumer products ever – from the Ford Mustang, Thunderbird and Bronco – designs that are not only timeless but have been studied by generations of designers."
Outside of his work at Ford, Thompson went on to try blending the qualities of the Bronco with a concept he sent in for a design competition with Motor Trend magazine (which he won) way back before he got his degree. The plan was to make a compact two-door SUV with a one-piece reinforced-plastic body and sell it to manufacturers in developing nations. Sadly, it never made it to production. Meanwhile, he retired from Ford in 1984 and moved to Arizona with his wife, before passing away in 2006.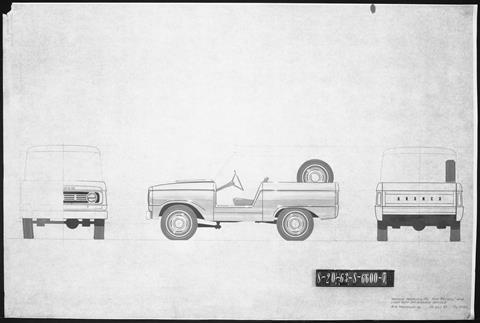 "McKinley's influence, beyond his work on the original Bronco, helped pave the way for others like him who might not have had an opportunity to express their creative talents and live their dreams to be a part of one of America's greatest companies," Young added.
That Ford has chosen to recognise all this in the wake of endless rumours around the planned all-new Bronco SUV, is almost certainly no coincidence. Watch this space…