Matthew Lincoln of Coventry University wins the Europe award in the Magna Global Bold Perspective 2020 design competition
The Europe award goes to Matthew Lincoln, a student at Coventry University, for his Citroen Urban Escapism concept. He will receive $5,000 and an additional $1,000 in place of a trip to the 2020 LA Auto Show (a change enacted due to the Covid-19 pandemic).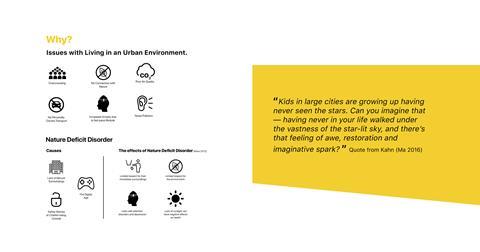 In his entry, Lincoln notes that 68% of the world's population is expected to live in an urban environment by 2050, and suggests that there will be a dramatic increase in the need for an escape from busy city life. He puts an emphasis on the fact that children could be victims of nature-deficit disorder caused by the digital age and a lack of experience within natural surroundings.
The Urban Escapism concept is a glass dome, shaped to take into account aerodynamics while driving, with four wheels at each corner. The dome can be extended both vertically and horizontally in "camping mode", providing a larger space for relaxation and leisure.
Seating is flexible and has been designed to ensure the vehicle is a sociable space when stationary, as well as being used as beds. There is a fold-out table that can be erected to create a picnic bench-style layout, and the roof has a decking area that can be accessed from the rear of the vehicle. There are also several hammocks that are folded up to become headrests in "driving mode".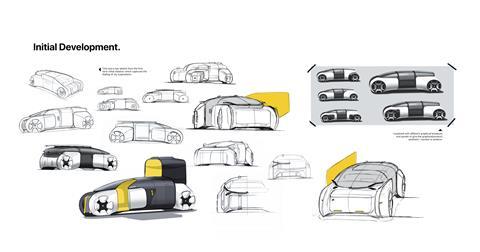 The vehicle is electric, and Lincoln has come up with a novel way of charging it in "camping mode". It attaches to a "charge tree" via a piece of stretched material that also provides a shaded area. Several Urban Escapism vehicles can be attached to the same charge tree as part of a "community pitch", or single pitches can be booked for a more private experience.
Larry Erickson, global director of exteriors design group at Magna Exteriors and one of the award judges, describes Lincoln's Urban Escapism concept as "a wonderfully imaginative vehicle that is far more than just transportation."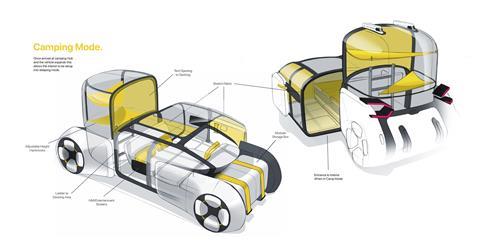 "There is a fantastic development of details, features and functional innovation," Erickson continues. "It is one of the most outstanding entries we have ever had that utilised a digital model to its greatest advantage for illustrating how and why a design functions. A significant design that not only addresses the needs of today's buyers but also embodies great aesthetic appeal and a vision of the future of materials and technologies."
Five students are runners up, showing the strength of competition. These are Robert Bishop and Bogdan Dragusin of Coventry University in the UK, Theo Mesplou of Royal College of Art in the Netherlands, Weigand Sebastian of Pforzheim University in Germany, and Rodrigo Magro of Universidad Politécnica de Valencia in Spain.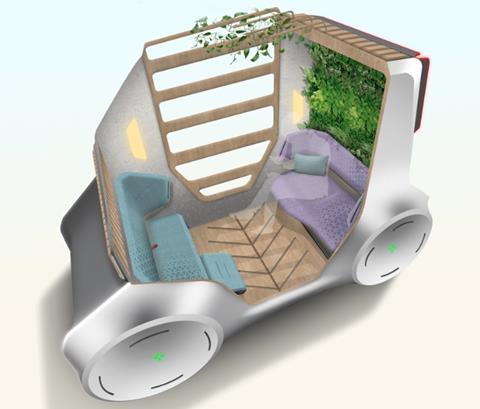 To be in with a chance of winning the award this year, students were asked to design a four-to-six seated passenger vehicle that uses innovative exterior body panels, openings and materials to enable new mobility customers to succeed without assistance in doing everyday tasks.
Regional winners from China are yet to be announced. The judging panel will then select an overall winner from the China, Europe and North America regional winners, who will receive another $5,000 in prize money.