Latest compact sedan features "Parametric Dynamics"…
Hyundai has released teaser images and a video previewing its new Elantra for 2021.
The Elantra, Hyundai's compact sedan, has been a solid entry in its class, but always suffered with some 'me too' styling cues borrowed from its bigger sibling, the Sonata.
No more. The Elantra seems destined to go its own way, and maybe lead the rest of the Hyundai lineup into a new styling language, away from the "Sensuous Sportiness" theme that has informed the design of Hyundai vehicles for a while now. Hyundai promises that the new generation of Elantra will be "a sporty four-door-coupe look with longer, lower and wider than ever proportions."
The new design language is called Parametric Dynamics, and is essentially faceted surface modeling integrated into a smooth fastback shape. The front mask recalls that of the Hyundai Vision T concept of last year. We had anticipated the Vision T informing the design of a future crossover, but Elantra seems to have jumped the queue and adopted the styling theme first.
– Hyundai Vision T concept
Hyundai said in its press release that the new styling language is based on the triangulated faceted surfacing: "Having three lines meet at one point is the main element of Parametric Dynamics. This formation is a daring challenge, which has been avoided in car design, marking Elantra's disrupter-spirit."
Certainly, the video teases a very dynamic composition of angles and curves on the Elantra, which has shades of Concept 45 about it. We haven't seen such a combination since Ford's 'New Edge' styling back in the late Nineties.
At the interior, Hyundai is describing the new design as a driver-focused "Immersive Cocoon," with a wide band of trim sweeping from the door across to the centre console and back around again, bracketing the driver and focusing the attention on the new screen display at the IP. The rendering Hyundai had released is very schematic, but shows the prominence of the silver wraparound structure, while hinting at the two screens.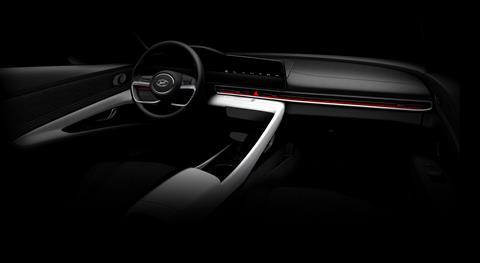 Hyundai will reveal the new Elantra on Tuesday, 17th March. We will have a further report following the event. Stay with us.