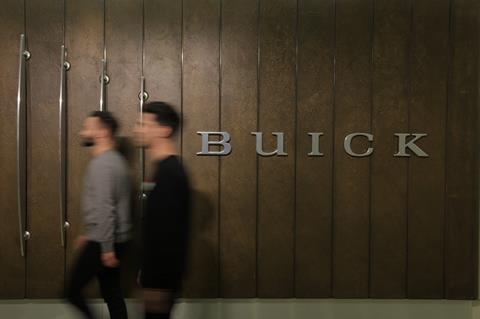 It's been years since members of the wider media have been invited inside the design studios of GM's Technical Center in Warren, MI. Only a few of us stand in the lobby of the Eero Saarinen-designed building, finished in 1956 and lauded as a prime example of mid-century architecture. These walls could tell many stories, but today, we're here to find out what many have wondered of late about Buick's design team: Just exactly what do they do all day?
As it turns out, they've been quite busy.
"This is a really important time for Buick," Executive Design Director Helen Emsley tells us. "For a while we've been trying to reinvent Buick and find out what it is." In recent years, Buick has essentially been rebadging other brands' vehicles, doing its best to create a unique design language through limited interior and exterior tweaks.
But with Opel and Vauxhall finally shuffled off to Peugeot, Emsley's team now has the freedom – and the extraordinary responsibility – to create a fresh portfolio that will boost the brand's image and draw in a new generation of buyers. "This is a perfect time for us to sit back and say, ok, what is the right thing to do for Buick? Let's make sure we do it correctly."
Up the famous floating staircase and past busts of Harley J. Earl and Wayne Cherry, Buick's global director of exterior design Bob Boniface greets us in the three-screen visualisation room. Here, Boniface and his team show us a sketch – revealed externally for the first time – that at first glance, turns everything you'd think about Buick design on its ear. Referred to only as "the orange car," we watch as the sketch morphs into a rendering, then into full-motion CGI animation.
Without giving away company secrets, it suffices to say that the bold, aggressive inspiration model would shock and surprise many, both inside and outside the industry. At the same time, those who know their Buick history will find many familiar design cues. "We don't use a specific set of terms like four tail lights, or something like that," Boniface says.
But there are parameters, such as a wide lower grille opening and thin, horizontal light graphics that have a wing shape at the outer edge. "These are not things we invented last year, these are things we've been doing since the Y-Job (widely credited as the first concept car) or the (1951) LeSabre. It's part of our heritage."
After the presentation, we're led down the hall to a full-size clay model of the Orange Car, milled only a couple of weeks earlier. (Unlike some design bosses, who proclaim their studios will go all digital and eventually skip the clay process altogether, Emsley's team still firmly believes in the merits of finishing a model by hand.) As seems to be the current trend in some other studios, the inspiration model embodies a purer, more sculptural design language.
"We want to focus on a form-based shape, not a line-based shape," says exterior design manager Rob Cameron. At this point, Boniface repeats a disclaimer that what we're seeing is only a glimpse of what might be. "This (design language) may never go beyond this, but it has been a rallying point for us," he says.
But only a few feet away, inside the studio, we see another full-size model that Boniface says has been approved for production: A four-door crossover with a sweeping coupé-like roofline that shares many of the Orange Car's distinctive details. Boniface tells us any production vehicle based on this concept would be "in addition to, and not a replacement of" anything in the current lineup. He also eschews the rumour that Buick would become China-only, even though the country accounts for 80 percent of the brand's sales.
But regardless of what Buick ends up designing, much of the intrigue lies in how they design. Emsley is known for her unorthodox approach to running the studio, where everyone is encouraged to speak up and pitch in, regardless of position. Even colour and trim experts are empowered to give feedback from the very first sketch.
"One thing I noticed when I came to the Buick brand was the open meetings," says colour and trim manager Michelle Killen. "We talk about integration and making the materials seem as one, so we want to make sure the sketch embodies that from the beginning." Killen remembers the first time her team showed the interior designers their board. "We gave them the three stickers that they usually give us, and we ended up going up in a totally different direction than we thought," she says with a chuckle.
Christine Cheng is Buick's exterior design manager in title, but has spent many hours also working on interiors. "Looking at a vehicle as a whole is so important. Moving belt lines around, for example, changes the interior too," she says. "It shows the openness of the culture at Buick, you're not just in your silo."
It's a culture that Emsley has worked hard to cultivate. "At Opel, everyone would sit separately and they wouldn't talk to each other," Emsley told us. "You have to talk to each other because at the beginning of the design is where you can make some compromises. If you leave it to the end and have to try to change things, you can tell."
Emsley also encourages her team to dream big, advice former GMC designer Max Sullivan took to heart when he came up with the idea for the Orange Car. "He decided he wanted to work in Buick, so he did the (Orange Car) sketches and I said, build it," Emsley recalls. "I'm a big believer that people are hired because they're good at what they do. And if we don't let them do it, we are never going to move the company forward."
Although the bulk of the design work is done in Warren, Buick also has studios in Shanghai, Melbourne Australia, and near Seoul, Korea. The relatively small team of roughly 50 designers and sculptors is not only diverse in terms of gender, ethnicity, and background, it's also ranges widely in age. "We have one of the youngest design teams," Boniface says, but underscores that it's important for all ages to learn from one another. "When I told Max I wanted him to make the Orange Car, I paired him with the oldest sculptor here. He's a Polish guy who's maybe 70, and it was so fun to watch them going back and forth."
Although Buick isn't disclosing a timeline, it's safe to say a reinvention is in full swing. And if there's one message Emsley wants competitors and customers alike to take away, it's this: "Give us a chance, come and have a look. Some amazing work is coming out of this studio, so keep following us and watch where we're going."