At this year's London motor show Car Design News ran its first ever Sketch-off. Four universities (Aston, Coventry, Staffordshire and the RCA) in the UK brought two students each to sketch, in just 30 minutes, a 'car' for the next Bond.
We were hoping to see some interesting cars, of course, but also some vehicles which had been integrated into London's urban landscape. We wanted answers to the question: 'How does the next James Bond move around the city?' And we were not disappointed. Work featured hover bikes, detachable segways, drones and a hovercraft.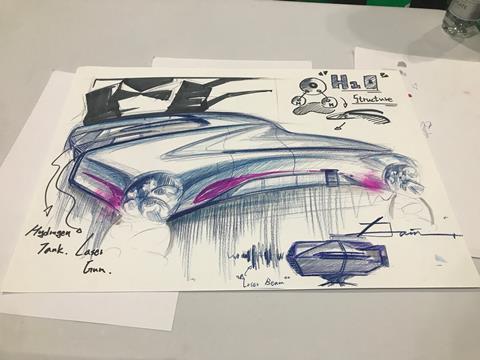 The sketches were judged by a host of top-level designers from car companies with studios located in the UK, including James Watkins, Creative Specialist Manager - Land Rover, Crispin Marshfield, Exterior Design Manager - Bentley Motors, Chetan Chohan, Design Manager - Nissan Design Europe, Martin Uhlarik, Head of Design - Tata Motors UK and Carl Gotham, Advanced Design Director - SAIC Design Advanced Europe. SAIC's Carl Gotham told presenter Mike Brewer that he was hoping to see "Imagination, creativity, and maybe a few cool weapons thrown in." Chetan Chohan hoped for " Something surprising, something we have never seen before, maybe a cocktail bar?"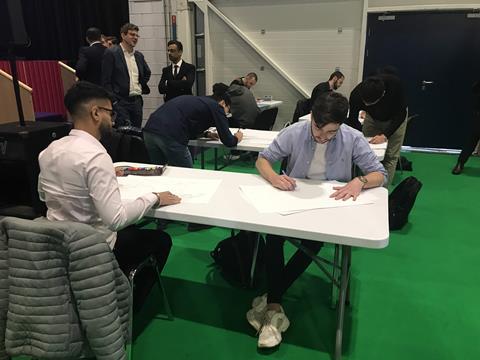 The students, surrounded by curious spectators and judges peering over their shoulders, showed remarkable focus and performed incredibly well under pressure.
After just 30 minutes, the winner was announced, Hui Li (aka: Kevin) studying Intelligent Mobility at the RCA in London. For the judges, Hui Li's work stood out from the rest and was a clear winner. Martin Uhlarik from Tata said: "This was the most impressive, with bold, strong use of red. This is a great drawing full, of great ideas." Hui Li won £500 and everyone who participated was given a year's subscription to Car Design News. Ultrafabrics also donated a surprise £200 to the pot for the winner at the last minute.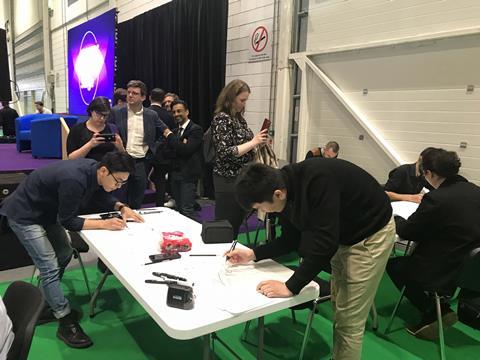 Doing a compelling sketch in that time frame is difficult, but Hui Li's work really stood out. "I'm trying to capture that feeling, that elegant British style and Aston Martins are central to James Bond," he told CDN. The long rear overhang is a nod to formal dress attire, the tail coat. "The segway scooter within the car allows Bond to pursue villains down London's narrow, congested streets," he explained. The bubble cabin was designed with one thing in mind – Bond's babe, providing an elegant protective wrapping for his attractive date. Hui graduates from the RCA in February 2020.
The Sketch-off was made possible by the support of Bridge of Weir, Forge Design and Ultrafabrics.