The winner of Magna's Global Bold Perspective competition has been announced at LA Auto Show
Students from around the world developed futuristic vehicle exterior designs for the first-ever Magna Global Bold Perspective Award, which was presented by Magna's Global Director of Exteriors Design Larry Erickson at the Car Design News LA Forum during the LA Auto Show 2019. The overall winner was Zehao "West" Zhang - a student at ArtCenter College of Design in Pasadena, California.
Zhang, who is now a Junior Designer at Geely, won top prize for his urban nomad concept, taking influence from a Volkswagen campervan. He envisages the vehicle being used for around nine hours a day, and at night it would be docked in a "living port" to provide access to restroom and laundry facilities as well as battery charging.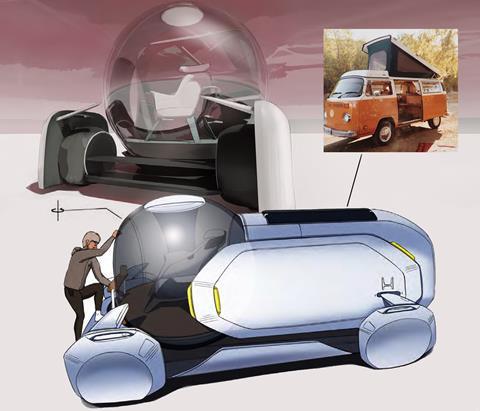 Erickson praised Zhang for his forward-thinking: "He met the challenge of designing what vehicles might look like in 20 to 30 years by addressing the growing needs of overcrowded cities, while also creating a very personalised and human concept."
"Contests like the one sponsored by Magna are so important for young designers because they are a good way to improve our design skills and show the industry what we can do," Zhang added.
Zhang was selected from three finalists that each won $5,000 and a trip to the LA Auto Show. He has been awarded an additional $5,000.
Bolin Sun and Gong Jinyun from Dalian University of Technology in Liaoning, China, were finalists with their "Swifter" design that took inspiration from traditional kite-making, as was Jake Lockyer of Coventry University in the UK with his "Project Andarta" autonomous vehicle concept.
Erickson believes that the competition has provided a unique insight into how future transportation problems could be tackled through vehicle design. "We intend to continue our support of the global student design community with this award," he continued. "There's so much to learn from these creative and innovative students as we consider what's ahead of us in terms of vehicle design and function."