Young designers across China, Europe and North America have battled it out for the chance to win Magna's Global Bold Perspective design competition. The winner of the North American region has just been decided
The North America award goes to Chanwoo Park, a student at College for Creative Studies in Detroit, for his Medic Bay concept. He will receive $5,000 and an additional $1,000 in place of a trip to the 2020 LA Auto Show (a change enacted due to the Covid-19 pandemic).
In his entry, Park described a fictitious scenario in which an elderly woman lives alone outside of the suburbs of a city. She needs constant medical care and has experienced loneliness due to being unable to travel.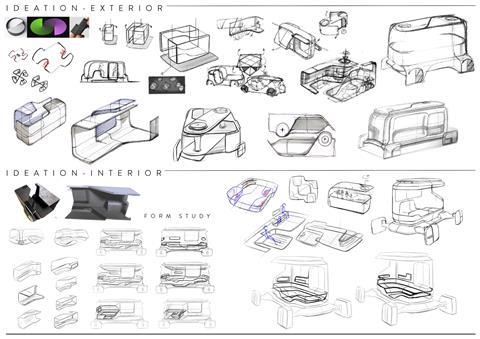 On the outside, Park's Medic Bay concept looks like a futuristic pod, with a simple rectangular shape sitting astride a flexible wheelbase. When stationary, the pod's shape can extend by rotating the wheels and its' body can be lowered for ease of access, transforming into what Park calls a "rehabilitation care system for seniors."
There is a lounge-like feel to the interior, with a comfortable seating arrangement that can be altered. There is a large window on one side of the pod to maximise natural light, and all materials have been carefully chosen in order to create a stress-free space.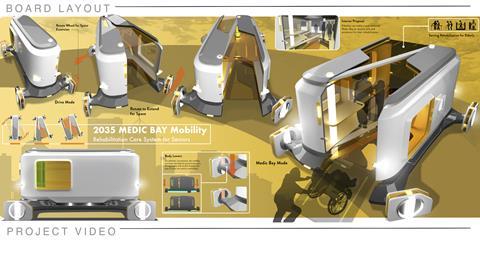 To be in with a chance of winning the award this year, students were asked to design a four-to-six seated passenger vehicle that uses innovative exterior body panels, openings and materials to enable new mobility customers to succeed without assistance in doing everyday tasks. Larry Erickson, global director of exteriors design group at Magna Exteriors and one of the award judges, believes that Park's entry is a worth winner.
"The Medic Bay delivers health care services by transporting medical personal and equipment to the patient's residence and upon arrival transforms itself into the rehabilitation space," he says. "The journey to recovery takes on a new meaning when services come to you, especially when patients have significant barriers just to get to medical services. Using innovative kinematics advanced materials and unique propulsion solutions, this proposal is a very compelling concept."
Jay Shuster, production designer at Pixar Animation Studios, also praised Park's entry: "Many of these designs exploit a common bread-box shape to accommodate large interior volumes. Using the same shape, this project cleverly devises a solution for a specific human need, illustrating some good problem solving. It could also be adapted to other fields."
The runner up is Spencer Schulte, a student at Lawrence Technological University in Michigan. His Rivian Gargoyle proposal includes interesting safety solutions such as a "crime prevention eye that follows people around the car, reminding them of the vehicle's awareness."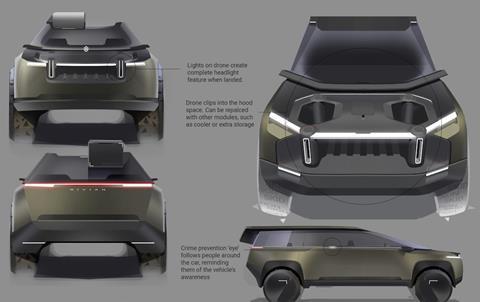 Regional winners from China and Europe are yet to be announced. The judging panel will then select an overall winner, who will receive another $5,000 in prize money.
Magna's Global Bold Perspective competition first started in 2019. The first winner was Zehao "West" Zhang, a graduate of ArtCenter College of Design, for his autonomous Honda concept. He is now working as an interior designer for Geely.