Magna's student design competition asked young designers based in Europe, North America and China to develop innovative vehicle exterior designs for 20-30 years into the future. The winners of the North American region have just been decided
The North America award, and $5,000, goes to Zehao Zhang, an ArtCenter student, who designed an autonomous Honda for urban nomads. He asked the question: Why should I spend 20K a year paying for someone else's home when I can build my own and take it with me? Zhang created the persona Gee Xili, who lives a peripatetic life, revolving around creativity and travel. The car has to allow for cooking, bathing, sleeping but also have space for sketching, a tablet and a computer. Xili is living in a capsule hotel paying high rents, and when he gets a job as a freelance designer in Tokyo, he books the urban nomad service for 9 hours a day – he can customise the interior as he likes. The 9 hours concept also comes with access to the 'living port' which the vehicle plugs into at night, giving him access to laundry, shower, restroom, security and battery charge.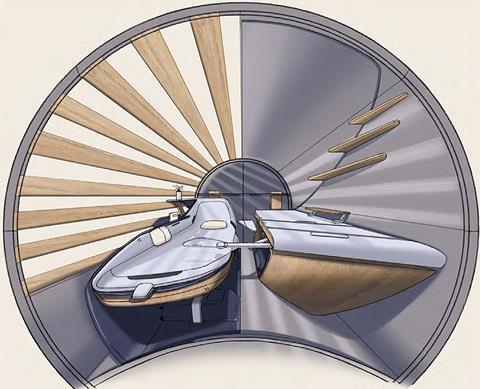 Judge Jay Shuster (from Pixar Animation) described Zhang's project as: "The most complete thought and presentation in the group, in my opinion. It addresses an important aspect of life for many people right now: how to affordably support oneself in over-populated city-centres while maintaining a job and life."

The runner-up position was awarded to Chris Kim with his design for Waymo Rider, a subscription-based ride system for three locations, or 'autonomous zones', where the control of individually-owned cars will be either surrendered to the autonomous grid or restricted (depending on their capabilities). The Waymo Flow is a single passenger mobility pod that offers mobility as well as elegant usable space. It focuses on the user's experience related to the space outside and inside. Chris Kim, a CCS student, had considered carefully how architecture and environment affect human behaviour and interaction and this theme ran through his designs. The Waymo Community (multiple passenger) vehicle was inspired by Greek ampitheatres. Judge Freeman Thomas (of Freeman Thomas Design) said: "I loved the connection to to the environment. All the concepts showed simplicity and aspiration. A beautiful lack of complexity. Wonderfully resolved and rendered!"
The third-best work was submitted by Dennis Stephan (also ArtCenter-trained). Stephan's EQS design aimed to incorporate two experiences in one vehicle, a focused driving experience and a relaxed autonomous one. His design displays some clever consideration of aero for battery cooling, but also for performance. In his design the underbody of the exterior of the vehicle is shaped by the interior. Stephan's vision of the autonomous future also does away with conventional headlights, rather light is used to emphasise details of the design and simultaneously indicate the speed the vehicle is travelling.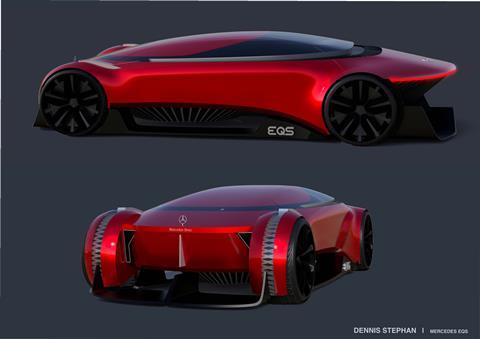 Judge Brad Richards (of Harley Davidson) described the Mercedes EQS concept as "Beautiful design with the added flexibility or autonomous or non-autonomous configurations. I would love the ability to make the choice every morning whether to engage in the physical activity of driving or using the time to accomplish other things. Even though I can see the advantages of autonomous vehicles a future of driverless autos leaves me cold, uninspired and frightened for humanity – the ability to engage in both offers hope and, within that choice, true freedom."
Zehao Zhang has won $5,000 and will travel to the 2019 Car Design Forum at the LA auto show in November to discover who is the overall global winner of the Magna Global Bold Perspective Award design competition. China region winners Bolin Sun and Gong Jinyun, who won with their entry 'Swifter', will also be at LA competing for the overall winning prize of another $5,000. The Europe winner will be announced next month.