Future electric Cadillac models could look a little something like the Lyriq
The first all-electric Cadillac SUV has made its world debut. Dubbed Lyriq, the production model includes a number of new design choices and will be representative of future vehicles to come under the marque.
"The Lyriq represents the next iteration of the iconic brand's styling, enabled by electrification, as only Cadillac can express," comments Andrew Smith, executive director, Global Cadillac Design. "Inside and out, Lyriq is a thoughtful integration of design and technology and is intended to make every drive an occasion."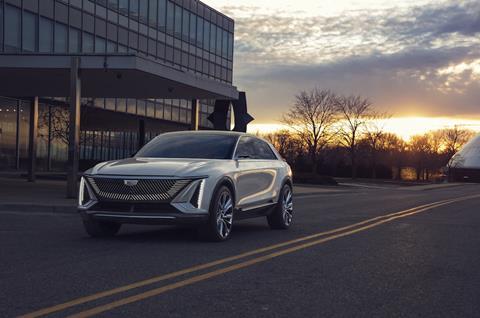 At the front, the Lyriq has a new "black crystal" design for the traditional grille area, with diagonal lines that are illuminated and lead the eye to the Cadillac badge. The area is large, spanning almost the entire width of the vehicle.
There are two vertical strips of LEDs that flank triangular shapes of chrome surfacing. These, along with the lights in the grille area and the door handles, provide the Lyriq with a distinctive appearance. This same lighting signature is repeated at the rear of the vehicle, with two vertical lighting strips sitting almost on the wheel arches. The main back lamps sit very high at either side of the back window and are also clearly visible from the side. They are connected by a thin lighting strip that spans the width of the rear, running between the bodywork and window.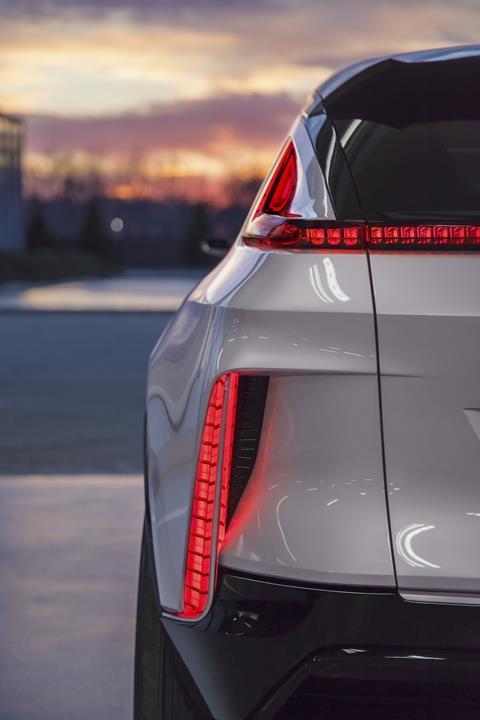 The shape of the bodywork is also particularly interesting at the rear. The lower light strips are topped with curved lines that level out to run beneath the main feature line before fading into the panel. There is also a curve to the lower part of the bodywork as it meets the vertical light strips, creating two small triangular shapes that emphasise the wheel arches.
Another key feature of the Lyriq is its long, sloping roofline that seems to sit very low. This would suggest that headroom inside is limited. However, the effect is achieved simply due to the proximity of the bodywork and the roof, resulting in smaller windows but ensuring the appearance is sleek and streamlined.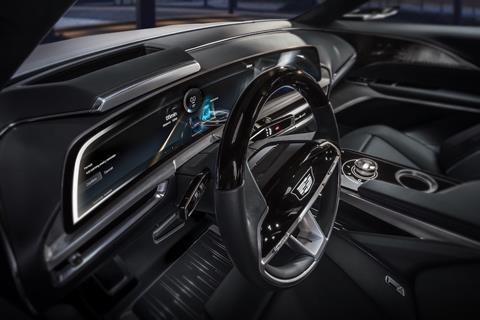 The interior is dominated by a large curved screen that sits behind the steering wheel. Surfaces are clean and simple, with a small number of buttons positioned beneath the air vents to control climate settings. The top tier of the dash wraps around the occupants to encompass them, stemming from driver door to passenger door.
There are some subtle details, such as the backlit speaker grilles and patterned sections on the doors. These bring character without causing the interior to be cluttered.
We hope to bring you more details and a closer look at the Lyriq during the LA Auto Show, which remains scheduled for 20 November.