We test drive Honda's very cool toy for grown-ups
One of the most anticipated new vehicles of 2019 from a design perspective is the all-electric, urban-focused Honda e city car. The showroom version won't be revealed until the Frankfurt motorshow this September, so Car Design News jumped at the chance to get behind the wheel of a near-production prototype last month.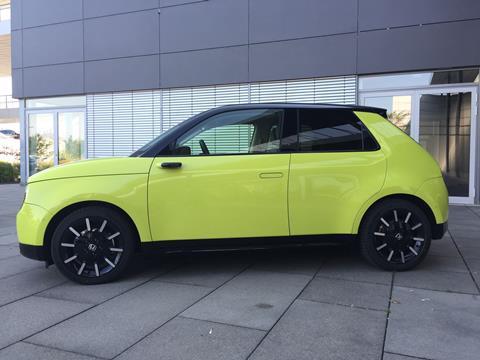 First impressions of this prototype – which should reach customers in production form in early 2020 – is that it looks very close to 'ready'. Two versions were available to test, one gloss white, the other acid yellow. Both colours contrast well against the gloss black everything else, from the completely closed and pleasingly concave front grille to the A-pillars, large bonnet-mounted charging flap, roof and wheels. The only chrome in sight adorns the Honda badge and the wheels' graphic 'spokes'. Add on body-coloured and flush front-door handles – that pop-out like an Aston Martin supercar's – plus gloss black rear-door handles, elegantly hidden in front of the car's body-coloured rear pillars (similar to the ones De Silva delivered on the mid-90s Alfa Romeo 156) and the whole exterior ensemble feels like a well-judged combination of Japanese cool and cute. Like a toy for grown-ups.
Keeping the exterior silhouette uncluttered, tiny camera pods replace exterior wing mirrors, akin to the much more expensive VW XL1 and Audi e-tron (and on the latter, only as an option) and they both relay clear images of rearward views to good-sized interior display screens at either side of the dashboard. There's a further central rear-view mirror housing a screen to see what's directly behind the car too, but that can be switched off if you prefer to look via a regular mirror. All three are well-placed and easy to reference.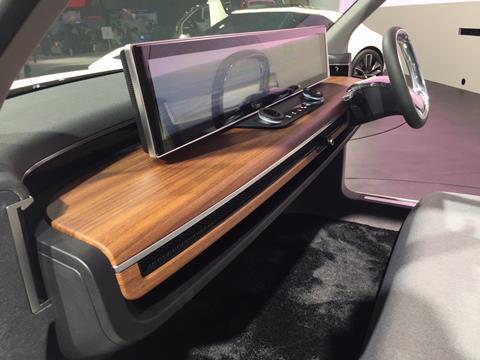 The showpiece of the Honda e's interior is the dashboard-wide infotainment screen though, made up of a 8in driver's display plus twin 12.3in touchscreens within a single frame, equally accessible by driver or passenger. The only carmaker with anything similarly close to production is Chinese start-up Byton's 48in version in its M-Byte SUV. But that will come at a higher price and is just for China initially, the US later in 2020 and could take years to reach Europe. Unfortunately, this early before launch, the massive main infotainment screens on Honda's prototype weren't fully ready to test. Hopefully we'll be able to do that in detail next year.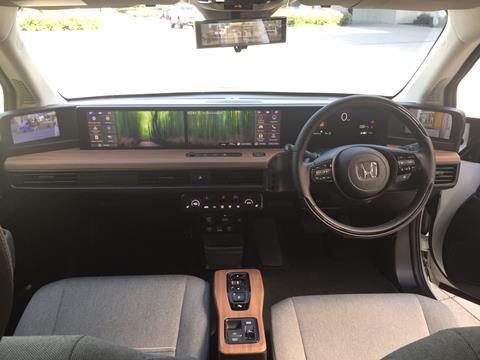 Meantime, we focused on how the Honda felt to be in and drive. Access via all doors is easy, not always the case for a six-footer and a city car. The driving position is decent and the cabin spacious, aided by a flat floor and the low-lying wood-effect horizontal dashboard top on which the screens sit and which also usefully houses switches for audio, volume and the 'home' button. The A/C controls in the lower part of the centre console are also sensibly physical with fan speed (left) and temperature (right) providing a reassuring 'click' when turned. Other neat and functional design touches include a truncated central armrest within which the automatic gearbox buttons are situated and below that a cupholder which extends forward horizontally when a smart leatherette loop is pulled. In front of the cupholder are an array of sockets on the centre stack and a soft pocket below to house a large smart phone. Useful stuff, and very Honda. Colour and trim is similar to the Urban EV concept's with grey marl fabric upholstery and lighter contrast stitching and brown seat belts. In the back, the bench seat is comfortable and head and legroom surprisingly good.
We only had a short time to drive the car and on a private proving ground, not public roads, but in a straight line, the e's 150PS electric motor feels BMW i3-style rapid, linear and quiet. Through twists and turns the car's rear-wheel drive set-up, quick-but-firm steering and low-slung battery pack makes the car easy to drive fast and safely. A press of the 'one-pedal' driving button on the centre console allows for different levels of regenerative braking to slow the car down sufficiently whenever the driver lifts their foot off the accelerator. In this mode, the physical brake pedal is barely necessary. And the e's tiny 4.3-metre 'lock-to-lock' turning circle is brilliant. City driving – it's intended locale – and small parking spots should present little problem.
The only elephant in the room – for those that have followed the EV's progress thus far – is that arguably the five-door Honda e isn't as pure a design as the cleaner and better-proportioned three-door Urban EV concept first shown at the 2017 Frankfurt motorshow. Of course, turning a concept into a production car often involves compromise, but in this case the concept was designed after the production car, not before. Why? "We took the production car and the Civic mk1, looked at both and created the [Urban EV] concept," large project leader Kohei Hitomi confirms. "Everybody was anxious, even during development, that the car might not be made so the concept had a role to play in convincing management and the wider world." The fantastic public reaction to the Urban EV clearly provided the required feedback to continue.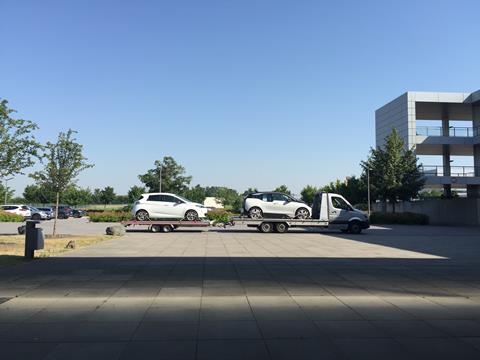 Yes, the e's 35.5kWh battery 'only' offers 124 miles of range as measured by WLTP rules and is pricey for a city car at circa £35,000 before grants (other small EVs offer greater range for less) but Honda is aiming higher upmarket, more towards a BMW i3 than a Renault Zoe (interestingly, we spotted both cars arriving on a trailer at Honda's German training facility just before our test). Overall, and even in prototype form, the Honda e's product-design aesthetics are still 'stand-out' and its luxury technology – from flush door handles to rear-view cameras and wide-screen dash – really do add up to something special.