Suzuki offers up a shapeshifting mini-sportscar and a cottage-on-wheels autonomous MPV
Suzuki has had a healthy habit of unveiling a pair of charming concept cars every two years at the Tokyo Motor Show stand and 2019's expo was no exception. The Hanare monospace and Waku Spo coupé/hatch offered simple lines, neat graphics and good functional flair so Car Design News sought out the designers of both to see if we could find out more.
After prolonged enquires – Suzuki don't shout or push their designers forward without considerable prodding – Takuma Endoh, team leader of the advanced design department and in charge of the Hanare concept, and Takafumi Ogiso (behind the team that created the Waku Spo) were introduced via interpreter.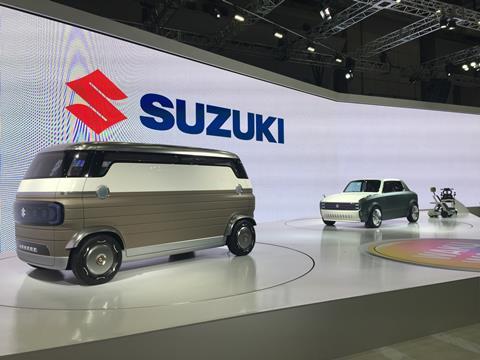 The 3900mm long, 1800mm wide and 1900mm high Hanare MPV is a symmetrical monovolume MPV that envisages a fully-autonomous electric vehicle for circa 2040. 'Hanare' means 'detached cottage' in Japanese and the idea is that the car becomes a personal space away from home where friends and family can relax, picnic and follow gentle outdoor pursuits. The window line is markedly high on both sides to allow greater privacy, dropping slightly at the front and rear windscreens.
When its occupants want to gain access to the outdoors, a single and huge gullwing door provides the production-unlikely but nonetheless dramatic opening.
With no steering wheel or instrument panel required (or offered) and the exterior front and back the same, the interior has no direction to follow in terms of typical automotive layout and instead fills the maxed-out space with a 60-inch infotainment screen on one side wall and two types of flexible seating at either end. The first and more plush lounge-style seat, to the rear (or to the right in our pictures) can swivel round in an arc to see the screen or simply face forwards, while the more basic seating at the front (to the left) emerges from the floor, or can stay hidden within it when not required.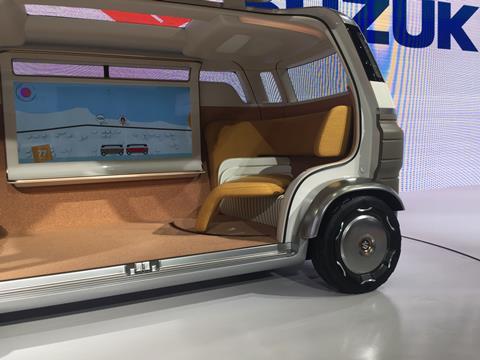 Unusual colour and materials add to the friendly vibe and include a light orange, textured woven fabric reminiscent of some Mid-Century Modern sofas – plus real cork wood covering the floor and the main feature wall behind the 60-inch screen. "The most important point for us with this concept," Takuma Endoh told CDN, "was to create a warm future vehicle, not something too cool."
The second of the conceptual pair, the 3700mm long, 1650mm wide and 1430mm high Waku Spo is also well resolved in form, if not name. Pitched as a 2030-era plug-in hybrid, it boasts a non-symmetrical and rather unusual three-box silhouette with a longer bonnet and shorter boot – what designer Takafumi Ogiso describes as a "Japanese style of three-box". But the Waku Spo's real party trick is its ability to change from sedan to wagon, via a rear wood-effect deck that rises skyward alongside a hidden extra rear glass window.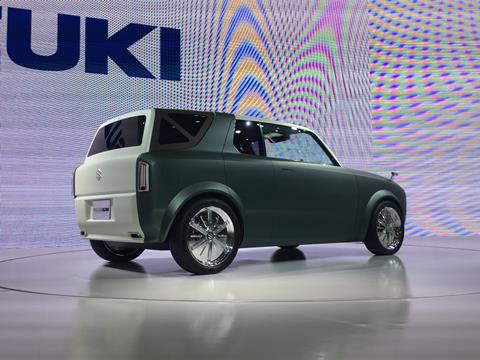 This working concept with simple graphics and smooth sides showed off its nifty transformational skills throughout the show, but we had to rely on the brochure to find out about the interior's similarly changeable shape. The vertical dashboard can notionally morph from a simple wood-grain finish effect to a full-width multi-function screen when required but we didn't see that with our own eyes as we lacked the pre-arranged stage permit to peer in. Oh well. Here are some CAD images from their Facebook page instead:
Both offer a pleasingly pared back, Japanese-inspired product design approach, albeit a little predictable in concept. Neither have direct production intent but they show again that Suzuki's designers have great talent but whose creativity is possibly under-utilised on most of its production cars.