Shortlisted for a China Award in 2013, Pengfei Kang has since built a successful career in automotive design. Now a senior designer at the Volkswagen Group Innovation Center Asia, Kang has returned to judge the new crop of hopefuls competing in Car Design Awards China 2021. We spoke to Kang about his career to date, his memories of the competition and his current work
A finalist in Car Design Awards China 2013, Pengfei Kang, now a senior designer at the Volkswagen Group Innovation Center Asia, speaks about his memories of the competition, his career path and why the future of transport might be in the air.
Car Design News: What are your memories of the China Awards?
Pengfei Kang: Ever since I was a student, my fellows and I were big fans of Car Design News. It was a great honour to be recognised in the China Awards, which is always the top-level design competition worldwide. The first time I took part in the competition was in 2013. I was a student and, along with two of my friends, we worked hard and passionately, chasing the perfect vehicle in our minds. I still remember the days we worked together: busy but enjoyable. We designed a truck inspired by a grasshopper – a bionic design concept with an organic form and frame-like patterns integrated with hollows to achieve a lightweight and energy-saving vehicle. We were very excited and surprised when our entry made it to the finalists, even though we missed out on an award. As young designers, there is no better encouragement than a CDN award, even just a nomination.
CDN: Can you tell us about the brief you have set this year?
PK: The brief from Volkswagen this year is about vertical mobility. We believe that vertical mobility is a trend that will happen, and inspiration can be easily found in terms of UAM (urban air mobility), both from the car and aviation industry. In Volkswagen Group China, we are working on the same topic with the support of more and more developed technology: autonomous control, new energy sources, and the science of composite materials, for example. It is time to look up to the air. Modern technology is ready for vertical mobility research and development – a new era is coming soon.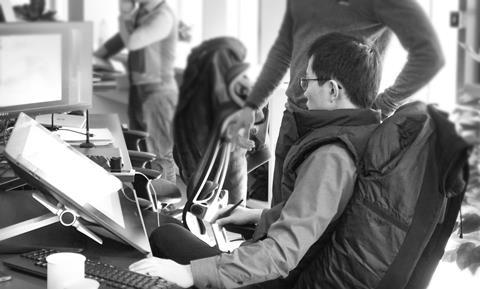 CDN: What was your first role as a professional designer?
PK: I began my career in a start-up company, which focuses on intelligent products, such as drones, robots, vehicles for entertainment, etc. Cool projects and very agile R&D processes. As a junior industrial designer my main task was to provide industrial design solutions. In addition, to define the package together with engineers, so as the scenarios and use cases. I also led on parametric design training – Rhino and Grasshopper – with the design team. I grew up very fast at my first position, not only in terms of design skills, but also in my attitude as a team member. And thanks to working on a variety of product designs, I gained lots of inspiration I could apply to vehicle design. I am also grateful to my leaders and peers from whom I have received lots of kind tips, which has helped my work for years.
CDN: Can you tell us about your current role?
PK: At the moment, I'm giving design support for advanced mobility projects from our region and group, taking charge of the design works for the Vertical Mobility China project, which is my major project. To create a brand-new project, we need to maintain the technical communication between engineers and technologists, define the new package and body style, source suppliers, and collaborate with other businesses. It is a broad role, not limited in exterior and interior design. As the biggest single market of the group worldwide, Chinese automobile market is quite important with big events almost happening every month. Design trend collection and researching is one of the main tasks, which helps us understand the industry better, and help designers keep a sharp vision for the brand.
CDN: So, is the future of transport going to be in the air?
PK: Yes, we believe it will be a megatrend in the near future, maybe just in the next decade. While the ground is becoming over crowded, the sky provides vast space for growth and development. Plus, as technology matures, UAM (urban air mobility) is within reach. As the design lead on the vertical mobility China project, I can see a broad range of opportunities in the new industry. Technically, it is a big challenge but it makes you excited. We are not only creating a new vehicle, but also a new typology – a hybrid of aviation and automobile, which has only existed in sci-fi movies before. Enterprise from different fields, start-up companies like Lilium, big aviation players like Airbus, automobile brands like Geely, all unveiled their air vehicles to show their ambitions to the sky.
CDN: Describe an ideal work day.
PK: It must be very happy and effective. Everything is on the right track and I am super engaged in the design works with fruitful ideas coming to mind. In addition, if a positive recognition has been given on my proposals, sure it will be fantastic!
CDN: What was the best piece of advice you have been given?
PK: "Manage work in a structured way." This is helpful advice given by my design manager when I was growing from junior to senior level. I think this is an essential class that the rookies should take. Always being stuck at one stage is usually a challenge for young designers. It is beneficial to have self-driven, brainstorming sessions to narrow down and refine ideas, which is good to keep motivation and creativity. At Volkswagen Group, we have a very precise structured R&D process for vehicles, including design and engineering, even marketing. This is a very good reference for us to study, even for personal works. While the responsibilities are increasing, more than one project is always running at the same time, and jobs with different aspects are coming as well. Therefore, how to arrange the works in a logical and efficient way, to plan well is very important. Try to get an overall vision for the whole process, which can help to set priorities for multiple tasks. Then, find out the best way to implement.
CDN: What advice can you offer students wanting to land a role in automotive design?
PK: Designers are all talented, with cool ideas and full of innovations. Therefore, it is important to transfer the talents into daily work, especially at the beginning of your career when you are transitioning from university to business. Most of the time in university, students are working in an individual working mode, but in business, the balance of team and individuality needs to be well considered. Working as a team is an important principle. The better you are integrated with the team, the more you enjoy the work, and the more you can improve yourself as a professional designer. Meanwhile, don't forget to keep an eye on what is happening not only in the car industry, but also other industries, since great inspirations are usually coming from across disciplines. As one of the judges for the Car Design Awards China 2021, I can see a bright future of the young talents.
Pengfei Kang was one of the expert judges that recently assessed the work of 18 finalists for Car Design Awards China 2021. The winners of this years' awards will soon be published on the CDN website.