Beijing – a youthful new brand from BAIC is on a mission to challenge perceptions of chinese car design, according to design director Frank Wu.
"I've been trying to push the envelope with my team and take the Radiance Concept to the next level in Chinese automotive design," says Frank Wu, brand design director at BEIJING Auto.
And he would know. A young Chinese Amercian designer with the track record of a seasoned veteran, Wu was the creative force behind the sporty and muscular Cadillac CT6 and the imposing Escala ­– which formed the basis of the American luxury brand's new design identity.
This impressive roster led BAIC to draft Wu in to oversee the launch and evolution of BEIJING Auto. Wu reports to Shan Wei, VP of BAIC R&D and oversees a 200-strong design team with an international pedigree, counting Bugatti, Mercedes, Hyundai, Kia as well as GM and FCA as former employers.
"If you look at art, there is a big difference between East and West," Wu notes. "Western society has always been about precision and realism, whereas Eastern art is all about the feeling giving you the space to interpret. Chinese calligraphy is about bold purposeful brushstrokes, and the Radiance adapts this philosophy in its lines."
Here, the onus was on creating a particularly Chinese car. Unveiled last November, BEIJING Auto is the energetic new brand from BAIC, which drew on eastern heritage and design philosophy to appeal to the dynamic upwardly mobile class currently shaping attitudes in Chinese cities.
And what lines. In profile, Radiance has the immediacy of a single, flawless brushstroke – a concise design language that embodies what Wu calls "Capital Beauty Design".
The front of the car, which calls upon the contrasting force of inertia via another, more instantly recognisable element of chinese heritage – the guardian lion. Traditionally, a pair of lions would act as imperious sentinels standing motionless over the entrance to buildings. Here, "The Face of Guardian Lion" is a strong front end identity that becomes a cipher for confidence and protection.
The Chinese market is well known for its penchant for long wheelbase cars, and in many ways this is an extension of the bold statements of traditional architecture such as Beijing's Forbidden City. As a large car, the Radiance embraces a 'confident purity' with the exterior design. It is rangy too, with an 800km range along with level 4 autonomous driving capability.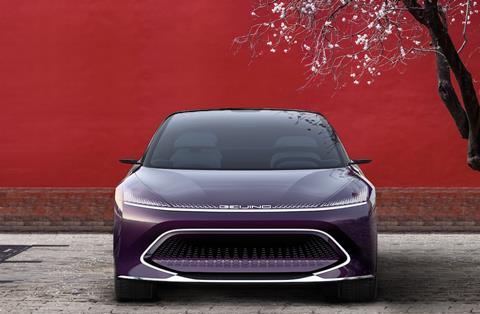 There are three driving modes: standard, business and relax. In business mode, the front seats rotate creating a boardroom-type environment. In relax, the seats rotate and can recline. In both cases the autonomous function takes on the driving, and each mode is accompanied by dedicated ambient lighting that smooths the transition and helps define the space. The grand set piece is the panoramic glass that floods the cabin with natural light.
Certainly, the Radiance Concept marks an important milestone in the evolution of the BEIJING Auto brand. But beyond that, Radiance Concept's striking design is a very definite sign that the Chinese consumer sensibility is rapidly maturing. Radiance concept showcases BEIJING's new design language, but it also acts as a teaser for the next generation production model, both ICE and EV lineups. If Wu and his team are set on challenging the boundaries of contemporary Chinese car design, it is fair to say this is an excellent start.