All the big teasers and preview images we have so far
The Tokyo motor show is about to truly kick off, and once we're all done with the Tokyo Forum (event report inbound), our minds will turn to the show floor. As well as the previously mentioned Nissan IMk and Suzuki quintet, we will be surrounded by these (mostly compact and/or electric) concept and production cars from the Japanese motor industry:
Toyota's new-energy push gathers pace…
Toyota appears to be going all-out at this show. It's already released initial images of its second-generation Mirai hydrogen fuel-cell car, now larger and rear-wheel-drive (report coming soon), and its stand will also boast a host of little electric vehicles. The all-black, snappily named Ultra-Compact BEV Concept Model for Business, which originally debuted back in June, will be present in all its cute-yet-sinister glory, as will a new, production-ready Ultra Compact BEV (second image above).
The new car, in white with a black bonnet, lives up to its name at just 2495mm long and 1290mm wide, with an ultra-tight turning circle to boot. Aimed at both elderly and newly licenced drivers who make short trips in cities, it features a 100km range and modest 60km/h top speed. The UC-BEV is slated to enter production in around 12 months' time.
Smaller still are the trio of 'Walking Area BEV' concepts, which amount to variations of the electric scooter idea. One of them is just that, in fact, while a three-wheel sit-down version will also appear, alongside a one-wheel e-scooter unit that attaches onto the front of a conventional wheelchair to give the elderly and disabled a bit of personal autonomy. The motorbike-sized i-ROAD tilting three-wheeler concept will also be on display.
If all that wasn't enough, they will also be debuting a version of the e-Palette autonomous mobility vehicle that will be used to ferry athletes around during the Olympic and Paralympic games next year. Large enough for 19 standing passengers and one 'operator' (or alternatively, four wheelchairs and seven standing people), it features Level 4 autonomy – hence the need for an operator who can take control in an emergency – and can communicate its intentions through active lighting and LCD screens front and rear. Finally, there will be the LQ concept, a development of the Concept-i we saw a couple of years ago that now features an AI onboard assistant called Yui, which will 'learn' from the driver to personalise their experience, as well as the ability to project complex graphics onto the road with its headlights.
…while its new Yaris shows its face
Away from the new-energy vehicles, Toyota has yet another, but more immediately relevant, new car to show us: the fourth-generation Yaris. Based on the new GA-B variant of the Toyota New Global Architecture (TNGA) platform, it will offer a selection of all-new hybrid and non-hybrid three-cylinder engines, plus all-new suspension developed from scratch. So yes, it's all very new.
The overall length is 5mm shorter than the outgoing Yaris, yet the wheelbase is 50mm longer, while the body is 40mm lower to improve the centre of gravity. Clearly of the same design bloodline as the C-HR, the exterior features large, bubbly surfacing around the wheel arches (especially at the rear), which contrasts with a sharp, aggressive face. The interior, meanwhile, is relatively straightforward, rectilinear but with softened, radiused corners everywhere – plus the prominent, high-mounted screen that seemingly every car must have now (although this one boasts physical controls down each side). More surprising is the 10-inch head-up display, sat above a three-piece digital IP.
Mazda's first BEV
Mazda will debut its first battery electric vehicle very soon. The teaser image above shows the profile of what will almost certainly be a crossover body with some advancement of the second-stage Kodo design cues we've seen from their recent concepts and the Mazda 3. Mazda has hinted at a "friendly" front face, a "unique" door arrangement and a "coupé-like cabin" with responsible materials and lots of open spaces – plus a short centre console briefly shown in a teaser video (screenshot in the mini-gallery above).
Daihatsu's double-barrelled quartet
Daihatsu's concepts are all so nice they've named them twice. There's the Waku Waku, a kei 4x4 loosely in the mould of the Suzuki Jimny but featuring fold-out storage solutions akin to what you'd find on a motorhome; the Ico Ico, a multipurpose Level 5 autonomous monovolume that can be used for last-mile delivery, taxi duties and, thanks to a fold-out ramp, transport for the wheelchair-bound; the Wai Wai six-seater mini-MPV (still just 4.2m long) with two fabric sunroofs, many screens and a relaxing cockpit for the tired parent; and the Tsumu Tsumu, a kei-class lorry with a sliding load bed and clever extended door openings with in-built storage areas. Please scroll through the gallery for some delightful illustrations of them all (also some normal press images).
Mitsubishi's tallboy and turbines
Mitsubishi has been putting out a drip-feed of shady teasers for its TMS stars. The most dramatic of the two appears to be the MI-TECH concept, an open-cockpit plug-in hybrid SUV. While most extended-range EVs use a combustion engine to recharge and supplement the battery power, Mitsubishi have instead employed a gas turbine – hence the two pairs of spiralling teeth on the rear buttresses – to save weight, tighten-up the packaging, and give smoother series-hybrid performance when in that mode. The wheels are ultimately spun by four electric motors, each axle's pair being monitored and adjusted by torque-vectoring 'Active Yaw Control' – a term familiar to fans of the Lancer Evos of yore. The MI-TECH will also feature an AR windscreen and the company's latest ADAS functions.
Sharing a show stand will be the Super Height K-Wagon concept, a family kei car with SUV-inspired styling cues, a whole host of safety systems and, importantly, a raised roof – hence the name.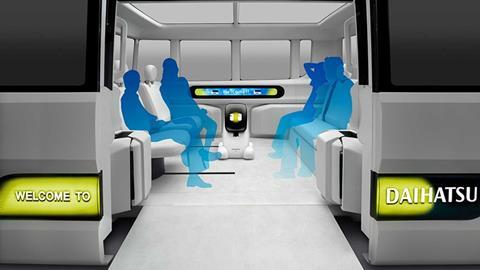 More to come from the motor show floor… check CDN Live and our social channels to stay up to date.