The new Tucson features aggressive geometric patterns that could become a Hyundai trait
Hyundai has unveiled its new Tucson digitally. The latest generation of company's best selling SUV has a fresh look, particularly on the outside, and is inspired by the Vision T concept that was shown at 2019 AutoMobility LA.
The new Tucson is both wider and longer (20mm and 15mm respectively) than its predecessor, resulting in more room for passengers and a larger boot. Its appearance is dominated by the sharp lines that puncture the body work. Instead of drawing and sketching these exterior shapes, the design team used software to create geometric algorithms, resulting in what the OEM describes as "unprecedented, bold design aesthetics."
A fearsome grille with a 'parametric jewel' design spreads across the front end. LEDs sit behind, and when on, react with half-mirror technology to provide a unique effect. This is mimicked at the rear, with the full-width light strip featuring triangular shapes that are only visible when lit.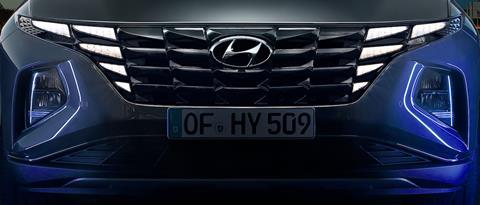 The interior of the Tucson isn't as startling as the exterior, but there are several key design points. The instrument display panel has been lowered and the gauge cluster has been simplified in order to achieve a minimalist feel. A new 10.25-inch touchscreen sits flush in the centre console, and chrome ridges on the dash sweep around from the doors to envelop the front passenger and driver.
Lighting also plays a key role in the interior. LED strips are present in the lower pockets of the doors, the two side pockets of the centre fascia, the door map pocket and the wireless charging pad. There are 64 configurations available with 10 levels of brightness.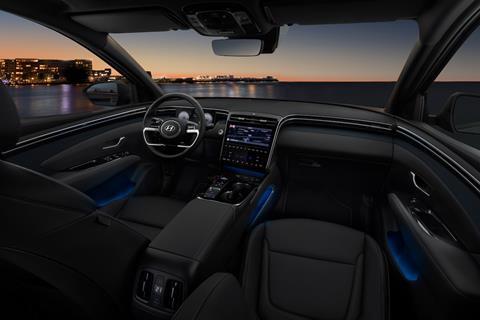 The Tucson marks the first model in Hyundai's portfolio to use a number of technologies designed to make the user experience more comfortable, such as 'Multi-Air Mode'. When activated, air is dispersed to the newly added multi-air slots in the front as well as the normal air vents, resulting in a "more pleasant indoor environment with more gentle air flow." It also comes with 'Rear Sleeping Mode', allowing the front passengers to listen to their selected audio without the same audio being transmitted to the rear speakers.
Hyundai has been pushing hard to evolve its design language. The Prophecy concept, which was shown back in March, gave us a glimpse into the company's spectacular plans for the future, and the 2021 Elantra, also shown in March, was the most dramatic yet. The latter also featured the same 'parametric jewel' grille and sharp lines down the side, suggesting it could be a strong theme for more models to come.