The sporty new Genesis GV70 SUV almost looks like a sedan, and has a luxurious interior to fit
Genesis has taken the wraps of its new GV70. The SUV becomes the fifth model in the company's growing line-up, and showcases a design "purity".
The general design is very Genesis, and the exterior looks similar to the recently launched GV80. However, the GV70 takes on a sporty appearance. At the front, the grille sits lower than the headlamps, making it look like a sedan. The lamps also stretch around to finish on top of the front wheels. Beneath the grille, the large air vents either side are linked by a mesh strip that is underlined by a skid plate.
A sharp belt line runs from the front lamps to the rear lights, emphasising the chunky rear shoulders and the way in which the rear windows become smaller and the roof slopes, almost like a shooting brake. The rear has what Genesis calls a "G-Matrix pattern-applied bumper", a vertical shaped muffler and a body-coloured diffuser, all of which add to the sporty feel.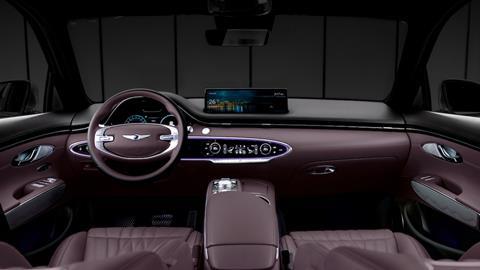 "The audaciously designed new GV70 breaks new ground for Genesis through purity of design execution," says SangYup Lee, senior vice president and head of Global Genesis Design. "This follows the Genesis G80 and GV80 which demonstrated the perfect balance of our design identity 'Athletic Elegance'. The new GV70 inherits the Genesis design DNA including signature elements, such as the 'wing face' and 'two lines'. Along with the G70, the athletic 70-series line-up expands our design territory."
There is a far more minimalist approach on the inside of the GV70 when compared to the new Genesis G80. The dash has just two layers. They are dissected by a clean sweeping line that runs from door to door, encompassing the two front occupants as if in a cockpit. It includes the air vents and a single strip of chrome in the centre. A large screen sits high on the top layer, and the controls are grouped below on an oval-shaped gloss material that stretches to the other side of the driver and outlined by chrome.
As with other Genesis models, there is a distinct focus on the use of quality materials and an intricacy in the details. Many of these details change depending on the spec. For the 'Sport' model, customers can choose from two-tone interior options. There are also sections of carbon-fibre placed in specific areas, like on the doors and the side of the centre console.