"For us, it is a retro-free interpretation," Volkswagen design director Klaus Bischoff stresses – while there are the obvious links to the vee-dub Baja Bugs and the like of the past, particularly in the face-defining "iconic round eyes" of the headlights, "in comparison to the original concepts this car has a totally different approach." That is all about "simplicity, an essential, innovative approach to design," he explains.
"Our philosophy allows us to explore new territories with this very simplified approach. The car is [therefore] totally modern because it is so simplified: there is nothing more you can take away, everything flows from its function."
While it's easily identified as an interpretation of the Beetle-based dune buggies, "if you look at the modern angle of the A-post, and the rollover cage at the back which works as a roof rack and as a holder for the flexible roof: that's a bar that protects, but it doesn't look like a steel frame," says Bischoff.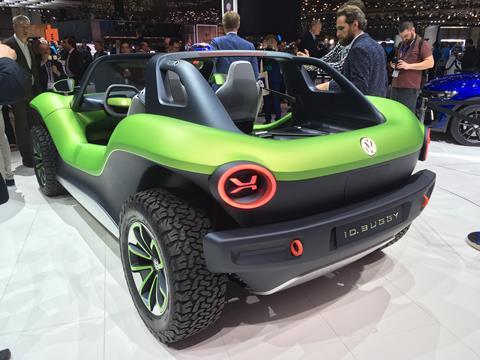 The other modern-values aspect is the proportions: the MEB (modular electric-drive matrix) platform has enabled a very long wheelbase, all the better-framed by the huge wheels (clad with fat sandy-terrain tyres, of course). It has also allowed for the creation of the roofless, doorless upper architecture without design compromises, Bischoff confirms – signalling the suitability of the MEB to support a very wide range of vehicles, including more niche products beyond the already-revealed ID family and EVs from other Volkswagen Group brands.
Herein lies part of the Buggy's reason for being: to demonstrate the broad potential for the MEB, which is to be licensed to third-party OEMs. A deal is already signed with electromobility specialists e.GO Mobile of Aachen, Germany, who will manufacture it at their facility. E.GO could also build the Buggy for Volkswagen itself, says Bischoff: "Let them produce it, but we will badge it with the VW logo; design comes from us, engineering from us, and it will be marketed through VW dealerships," he says.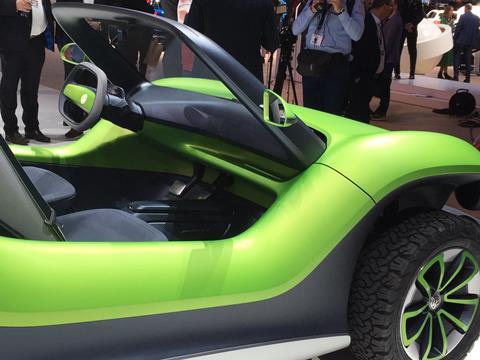 The digitised design process at Volkswagen enables low-volume variants to be developed at relatively low cost and time-frame, even if actual production is outsourced. Nonetheless, the basic design process or approach has not changed at Volkswagen to create or develop this more open-source vehicle, although "this is a new type of VW, and a new way to look at and reshape the brand, and to make electric mobility a very attractive proposition. It shows how far you can expand electric mobility – from an autonomous vehicle like the ID Vizzion to this ID Buggy, a real contrast…" Bischoff says.
"It's made for countries and landscapes where weather is perfect!" he laughs, "and from a user experience standpoint, we looked deeply into how the car would be used, the different scenarios." The Buggy isn't intended to be a long-distance or commuting vehicle, hence the lack of instrumentation and equipment bar a small screen behind the wheel showing speed, transmission model and music-related information. "Nothing else is needed!" says Bischoff. "Driving fun is a facet of mobility that we shouldn't forget."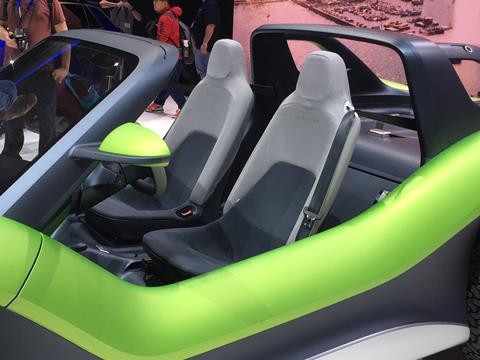 All the interior surfaces are water-repellent, including the seating textile, and the interior has drainage channels; the pull-out roof is sailcloth embedded with carbonfibre spines for a stable construction. With the end-user envisioned as someone living near a beach, carrying sports equipment such as surfboards, having large lockable storage compartments, and being able to get in and drive while still wearing a wetsuit were key attributes. A waterproof chip-card replaces a key.
Volkswagen plans to make the Buggy fully recyclable, and is exploring the use of self-colouring materials rather than chemically-derived paint, as well as the possibility of 3D-printing in the future. "We worked through everything to make it a holistic experience and approach," says Bischoff, "and in the future, we will design everything around the car, all the pieces fully connected; explore more what people do with it, how they handle the product. It's more than user experience, we call this 'extra-terior design'."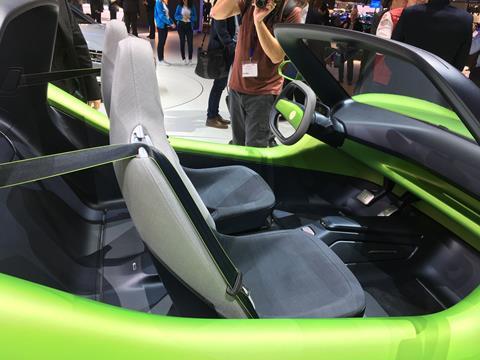 This includes aspects such as the Volkswagen We digital ecosystem, which itself could be licensed along with the MEB to offer services such as autopayments for battery-charging and parking, as well as entertainment, information and suchlike.
Ultimately, Bischoff says, "we want to make iconic, unique products that work better in the e-mobility movement. Although this is a new product, it is far more possible to produce it now [than in the past], and it opens up the door for a new type of motoring and mobility – so we will work from all facets, and design will play a major role."