Car Design Dialogues is back with day 1 has proving to be a design-rich fountain of reviews, fireside chats and panel debates. Read on for a spirited canter through some of the key talking points
A dream come true – Shao Jingfeng, vice president and global design director at SAIC Motor, jumped inside the MG Cyberster and revealed his long-awaited desire to drive a sports car that he has designed. Jingfeng unpacked the design rationale behind MG's return to the world of sportscars at the keynote session of Car Design Dialogues Asia. Such a car, he explained, would not have been relevant for the Chinese consumer a few years back. But now, with a growing middle class and the right product, Jingfeng believes that customers will be more than willing to part with their hard-earned cash.
Speaking of hard-earned cash, certain technologies that are finding their way into the car could make the price point a little steep. Autonomous driving and AI are set to change the way we tackle car interiors fundamentally, according to Martin Uhlarik, the newly appointed design chief of Indian car giant Tata Motors. He explained how the interior designer role has morphed into "experience designer," with an emphasis on understanding people's needs and wants in an era where the primacy of the driver will no longer be the defining factor.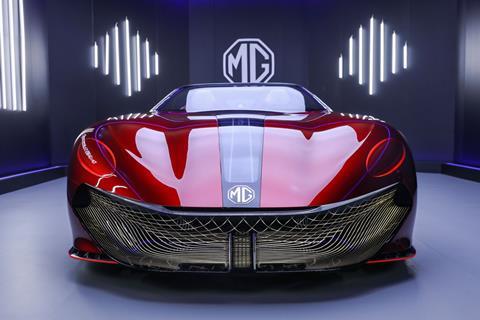 Uhlarik was part of an expert panel assembled to explore the future of the car interior, which included head of design at Volvo Trucks Gustavo Guerra and Alexandre Dreyer from BASF Performance Materials. The panel kicked around a variety of ideas, including how speed of change was affecting the industry. Contrary to the established narrative, Guerra said that car design was not moving any faster than in previous years but the criteria had changed. Uhlarik went on to discuss the idea of the car being a sanctuary from screens and technology – a stark contrast to the prevailing trend for ever more tech, which was demonstrated in the Sierra concept at the last Car Design Dialogues event.
How do designers create a distinct brand identity that acknowledges or even celebrates the cultural context from which it emerged in an era of globalised design? That was the question CDN put to Kripa Ananthan, head of design at Mahindra and Fabio Filippini, founder of design consultancy Accaeffe, as well as author Gautam Sen. Ananthan explained how a broader dialogue with customers, content creators and even influencers could nurture an organic design scene. Filippini speculated that the resurgence of postmodernism prompted by the millennium had resulted in a simulacrum of historic Italian and British design. The conversation moved to the Thar by Mahindra and how a design that emerged from US culture and been fully adopted by India to the point where it has become synonymous with that culture.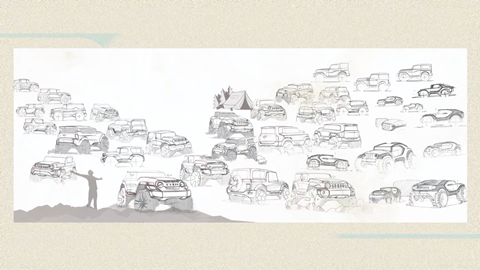 With live demonstrations of 3D design tools and visual artists in action, the Adobe session proved vital for those looking to hone their digital creative skills. These tools have incredible levels of detail and changes are made in real-time, making the virtual landscape appear extremely realistic. Young experts Pierre Maheut, head of special projects, 3D & Immersive - Adobe, and Ronan Mahon, senior freelance 3D artist, also discussed the crossover between the world of gaming and the automotive sector, and how design cues taken from the former are now being applied to the latter.
Space to fail is a crucial part of the creative process but in an era of digital perfection perhaps an overlooked one. Geodigm's Steve Colbert made this important point in a panel discussion with Autodesk on the future of digital tools. "Not making mistakes implies that you are too rigid in your thinking, that you always stay within the boundaries you set yourself at the start." Digital design tools have of course played centre stage during the pandemic, allowing the industry to keep designing in the absence of a studio. Though it may have simply sped up a trend that was already well in motion, Autodesk's Phil Botley speculated that we are yet to see how far the disruption will spread. "I think there will be a lot more ripples long term in the auto design industry in terms of how we design and what we design and how we use these tools. I don't think we have seen the full impact of this year and a bit."
Join us for day two of Car Design Dialogues Asia 2021
Making mistakes is also a big part of pushing the boundaries on design, says Harry Sze, design director at GM Advanced Design China. CDN deputy editor Michael Nash sat down with Sze and his colleagues Ahyoung Min, creative design manager, and Chris Yin, senior operations manager, for a cosy fireside chat inside their brand new design studio to round off the first day of the event. The visionary team explained how design in the auto industry moves rapidly, and perhaps nowhere is this truer than in China. But speed doesn't need to take precedence over quality. Sze also warned of the dangers that come with designing in a world that is saturated by social media and information, where Pinterest-led designs cause a loss of warmth. Instead, he hopes for a future full of colour and sensuality, fuelled by credible data, innovative technologies, and cross-industry influence.