The second day of Car Design Dialogues Europe included numerous highlights from designers creating beautiful production and concept cars, to super slick digital-only models
The design team from Volvo, led by the estimable Robin Page, got day two of Car Design Dialogues off to a flying start with an in-depth look at the new Volvo C40 Recharge. The team revealed the thinking behind the grill, which sets out Volvo's ambition to be all EV by 2030, along with how they incorporated themes of the natural landscape with a backlit dashboard display that recalled the topography of a national park. However, Page explained that moving to EV was crucial to the realisation of Volvo's interior design ambitions. "Electrification offers us the chance to really open up the space and deliver the proper Scandinavian living room, which is what we've always wanted to do."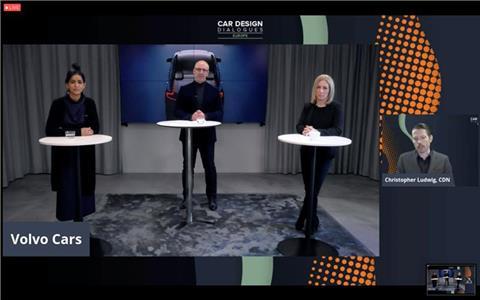 With so much talk surrounding electrification and the environment, it was fitting that Alcantara's sustainability director Carlo Ammirati followed the Volvo session with a passionate insight into the company's eco credentials. He also pointed out a disconnect in the materials industry. "In the field of sustainability, we believe that transparency is absolutely key," he said. "Our carbon footprint and status are certified by the relevant bodies… But there is a lot of misplaced talk about sustainability, and the market is rife with greenwashing. Organisations claim they are doing more for the environment than they actually are. Claims such as 100% sustainability are frequently used even if they are meaningless."
Sticking to the EV theme but moving to a completely different side of car design, the team at Jaguar delivered a stunning film on the new Vision Gran Turismo SV – a super powerful virtual race car that was also built in the real world as a full-scale design study. Adam Hatton, creative director of exterior design at Jaguar, came together with a team of young designers including Oliver Cattell-Ford and Christopher Shaw to explain the design process behind the car. "When we design a production car, we are always thinking of how it will look on the road," said Hatton. "But it was different with this car, because we had to think of how it would look like in the game. You do have to shout a bit louder to stand out.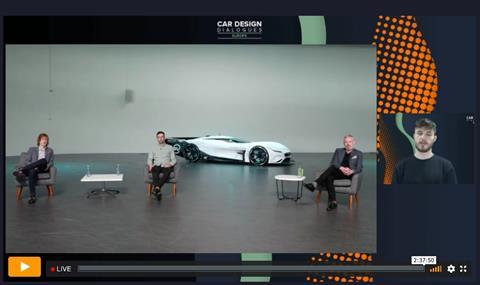 The conversation broadened into the realms of mobility with the Designing Mobility session. Paul Priestman, founder of industrial design studio Priestmangoode and who counts Hyperloop and NASA as a client questioned how we might adapt our transport methods to suit our cities. "We're having to adapt. We can't just rebuild cities every time there is a new form of transport. We have to make what we have already built better," he said. "As we look post-Covid, will there be rush hour pressures? If people are able to work at home or at a coffee shop, what is the rush? It takes the pressure off, and these different ways of looking at a problem often throw up new solutions."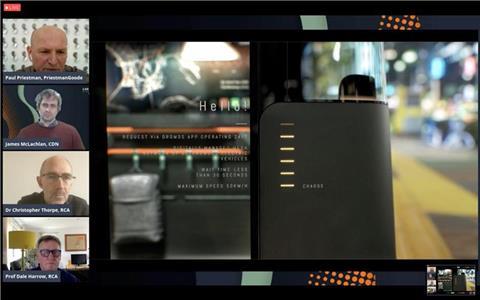 As technology becomes ever more important in car interiors so too is the moment where this technology meets materials. A panel, including Lars Falk from Lynk & Co, Nick Hull, Coventry University, Thorsten Suess NBHX, Thomas Bouveret, DS Automobiles, explored the possibilities and challenges this intersection presents. All agree they would like to move on from the era of screens. Bouveret pointed out: "We have the technology to put functions under the skin, but there is so much misuse in the cockpit. So it is really difficult to control and define functionality and make sure it is in a suitable place."
Back to the world of gaming, and Team Fordzilla took us behind the scenes to unpick the P1 virtual race car. Amko Leenarts, design director at Ford of Europe, spoke about the rapid design development that took place over the course of just seven weeks, the challenges that came with working remotely, and some unusual processes that were used at certain stages of the design phase.
He referred to a series of Twitter polls that were carried out, where the gaming community were able to vote on their favourite designs for specific parts of the model. This, he said, was a way to bring the fans closer to the project and make them feel personally involved. "We are not just drawing a race car and dropping it in the game – we are on a journey!" Amko said.
The importance of new and innovative lighting designs was a theme that repeatedly popped up over the course of the two day event. Many of the design experts suggested that there is massive potential in the field of lighting, and are hoping to explore the field in upcoming models.
Robert Miller and Erik Measel of Myotek provided some glimpses into the next frontier for lighting designs. "Lighting can have physical shapes, and can match unique body shapes or sights," Miller said. "But what really goes on is the magic inside the light. Using diff materials and effects, accentuating patterns and textures. We're seeing it as a DNA of brands, with each company having their own taste."
Ian Cartabiano, President of Toyota ED2, walked us around the European design headquarters and introduced us to almost every member of the design team, including Ashley Woodfood, a senior modeller who also doubles up as a cameraman, moviemaker and editor. "What we like to say about ED2 is the small team, big impact," Cartabiano said.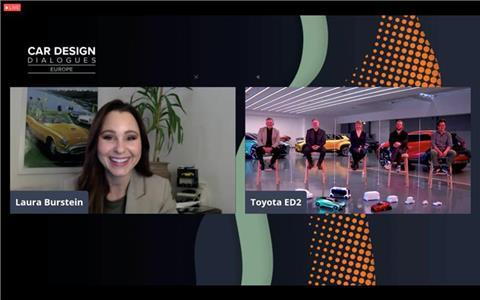 The team also provided a brief design review of the newly launched Aygo X prologue, which was released just a day before, and sat down for a live Q&A session with CDN's North America correspondent Laura Burstein. They openly discussed a wide range of topics, from allowing designers to let loose and "go wild" when sketching, to the creation of forward-looking mobility concepts in a post-covid age.
Car Design Dialogues came to a close with a one-on-one interview between the legendary naval designer, author and car design extraordinaire Patrick le Quement. He joined us from his home in Paris and spoke about his previous work at Ford, Volkswagen and Renault, as well as his current work as a boat designer and president of the advisory board of the sustainable design school in Nice.
"I have always wanted to shape the change, rather than change the shape," le Quement said. "That was my approach as a designer. When I got into companies where I could take a design direction I was very much involved in new concepts. I've always been fascinated by new ideas and by answering the questions that customers don't actually ask themselves."
Each of the sessions will be available to view on demand via the Car Design News website. We will also soon announce our next Car Design Dialogues event – stay tuned!