Even in today's highly connected world, with services such as simple online shopping and home deliveries, we still feel pressed for time. Millions of people in countries including the US, China and Europe commute between 18 and 37 miles per day in a car – but riding in a vehicle can be restricting and limiting. Today, we have to adjust our activities to fit the car – twisting and turning to see someone, for example – so we often tend to stay looking forwards. And when you add in the use of electronic devices such as mobile phones, each person ends up travelling down the road in their own digital world.
1/3: Car Sharing for Delivering Cargo. The driver parks their car at work and shares it with a delivery company. Using an app, the company reconfigures the seats into cargo mode. The passenger seat nests under the instrument panel, and the second- and third-row seat cushions flip up and move along the floor rails to maximise the load area. Space is created behind the passenger seat for smaller packages, and larger items can be placed behind the third row.
2/3: Ride Sharing with Conference Mode. A team has been working into the night and hasn't had time to review the final presentation. An autonomous ride share is called, and the team use conference seating mode on the way to their meeting. The second-row outboard seats face each other, while the middle seat swivels into place between the two front seats. The driver seat and passenger seats reverse to enable all three rows to face each other, and everyone is briefed, ready and well-prepared.
3/3: Long Road Trip with Campfire Mode. During a stop for snacks, the driver reconfigures the seats: the entire second row does the 'stadium swivel dance' to face the third row. One parent jumps in the back with the children, and transforms the road trip into family time: telling stories, playing a game or helping with homework. The long road trip becomes much more enjoyable – or educational.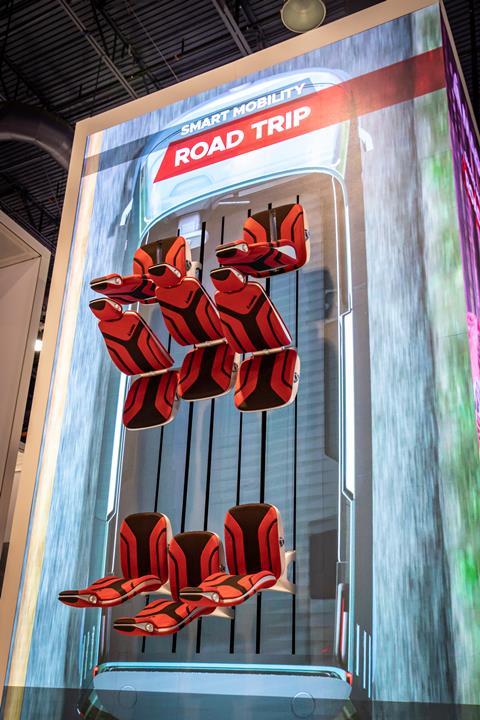 Reconfigurable seating changes the experience, giving back precious time and social opportunities otherwise lost. At the touch of an app, the vehicle transforms through a seamlessly choreographed dance. Do you have packages? Pick cargo mode. Are you going on a long road trip? Pick campfire mode. Need to have a meeting? Conference mode can make that happen.
At Magna, we've been reconfiguring seats for over 15 years. We engineered the first Stow 'n Go® seating system for minivans in the US, in which the seats fold down to store below the floor. This transformed the vehicle into an open space for carrying large items home – a revolution in the minivan market, now in its fourth generation. Looking forward, we are inspired by how autonomous driving will enable seat positioning to play an increasingly important role in creating a flexible, collaborative space for passengers to engage in all sorts of new activities.
– Seat modes [L-R]: Starting Position; IP Nest (moved forwards); Swivel; Swivel 180; and Campfire
We are creating reconfigurable solutions that enable the vehicle to adapt to the consumer, instead of forcing the consumer to adapt to the vehicle. The result is value-added time and increased utilisation for drivers and passengers: car sharing with cargo mode helps people support local businesses and get more value out of their vehicle; long road trips with campfire mode allows a family to be more social and fun; and future autonomous ride sharing with conference mode helps people be more productive while travelling.
Today, Magna engineering has made all these concepts fully functional and future-ready. We have seats with cushions that flip up like stadium seating, glide seamlessly on long powered rails to nestle up to the instrument panel – and then glide back to swivel 180 degrees and flip down, to allow a passenger to have face-to-face time with those in the back seat. Reconfigurable seating can be used in a variety of vehicles to provide the most valuable layout for consumers' daily needs. Stop losing time. Take time back. Learn more by visiting Magna at www.magna.com.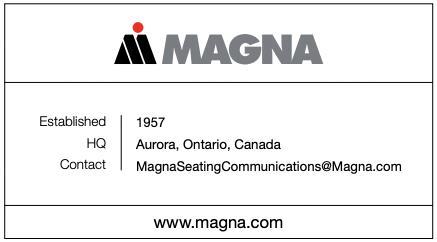 About Magna International
Magna is a mobility technology company. We have more than 166,000 entrepreneurial-minded employees and 346 manufacturing operations and 92 product development, engineering and sales centres in 28 countries. We have complete vehicle engineering and contract manufacturing expertise, as well as product capabilities which include body, chassis, exterior, seating, powertrain, active driver assistance, electronics, mechatronics, mirrors, lighting and roof systems.