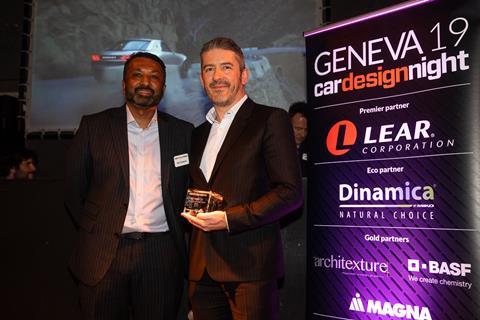 At a packed event in Geneva, the Car Design News Production and Concept cars of the year have been revealed: Peugeot's e-Legend won the Concept Car category, and the Jaguar I-Pace scooped the coveted first place in the Production Car category.
CDN reveals the winners at the annual Geneva designer night, which is fitting, because these are the only awards voted for exclusively by designers working in the industry. As Jaguar's Adam Hatton, Exterior Design Director said when he collected the award for Production Car of the Year, "Yesterday we won Car of the Year but, as a designer, this is the big one." Thank you. Peugeot Design Director Gilles Vidal collected the Concept Car award for the e-Legend concept. (This year's Judges are listed below.)
The Car Design Awards were open to every concept and production car launched in 2018, and form part of the Car Design Review 6 yearbook, a high-quality limited edition annual publication which looks back at the previous year's vehicle design trends, hot industry topics and automotive milestones. It also features interviews with the senior designers who make up the jury, a full analysis of the shortlisted cars, and an annual Lifetime Achievement Award, given this year to highly respected ex-Audi, Opel and Ford veteran Martin Smith.

Managing Editor Maxine Morland commented: "2018 was a turning point in the automotive industry, and the fact that the winners in both the concept and production car categories are electric vehicles reflects that change. These two cars show the range of design, and the appeal of an electric future."

Concept Car of the Year was awarded to the beautiful Peugeot e-Legend – a clever blend of heritage styling and high-tech thinking from Design Director Gilles Vidal's studio. The judges were highly impressed: "Just beautiful, thanks to its first-rate balance of masses, of proportions," said Alejandro Mesonero-Romanos of SEAT. "While having a sense of homage with a simple proportion and an authentic vehicle silhouette, this car still gives a feeling of something new and fresh," agreed Ikuo Maeda of Mazda.

Production Car of the Year was won by the Jaguar I-Pace. The electric coupé/SUV, from a team led by Design Director Ian Callum, has a highly distinctive look without losing its brand's identity. Sharon Gauci of General Motors very much liked its design: "The proportions are bold; the elements and graphics front, side and rear relate to each other with a harmony that's not overdone or pretentious." Thomas Ingenlath of Polestar and Volvo was equally enthusiastic: "Chapeau! for being there with an attractive electric car in 2018. Deserves the prize for good decision-making together with a good design."


The Jury

Kripa Ananthan (Chief Designer, Mahindra & Mahindra)
Mitja Borkert (Design Director, Lamborghini)
Samuel Chuffart (Global Design Director, Icona)
Luciano D'Ambrosio (Founder and CEO, LDA-Design)
Luc Donckerwolke (Executive Vice President and Chief Design Officer, Hyundai Motor)
Larry Erickson (Global Director, Exteriors Design Group, Magna)
Sharon Gauci (Executive Director of Industrial Design, General Motors)
Thomas Ingenlath (CEO, Polestar)
Benoît Jacob (Vice President of Design, Byton)
Shao Jingfeng (Vice President, Technical Centre and Global Design director, SAIC)
Tsunehiro Kunimoto (Vice President and Head of Design, Mitsubishi)
SangYup Lee (Senior Vice President and Head of Design Centre, Hyundai and Genesis)
Ikuo Maeda (Global Head of Design, Mazda)
T. Jon Mayer (Senior Director of Design, Volvo Cars USA)
Gerry McGovern (Chief Design Officer, Land Rover)
Alejandro Mesonero-Romanos (Design Director, SEAT)
Ken Parkinson (Vice President, General Motors China/GM International Design)
Davide Pizzorno (Chairman & Design Director, ED | Excellence Design)
Satoru Tai (Executive Design Director, Nissan; Vice President, Creative Box)
Antony Villain (Chief Design Officer, Alpine)
Fan Zhang (Vice President, Head of Design, GAC)
Chen Zheng (Global Design Chief, Chang An Automobile)
Individual or bulk copies of Car Design Review 6 are on sale now and can be purchased through Amazon.