Magna is redefining the rear of vehicles on multiple levels: styling, user experience and lighting, via its class leading expertise with thermoplastics
"We spend almost 100% of our driving time looking at the rear-end of the vehicle. It is time to re-invent it," says Riad Chaaya, global product line director, liftgates and door modules at Magna. It is hard to argue. While the front of the vehicle is the most obvious focus for the casual observer, it is not what we end up looking at. As a key employee of a world-leading company with over 20-years in developing, designing and manufacturing thermoplastic liftgates, Chaaya knows well of what he speaks. The numbers speak for themselves.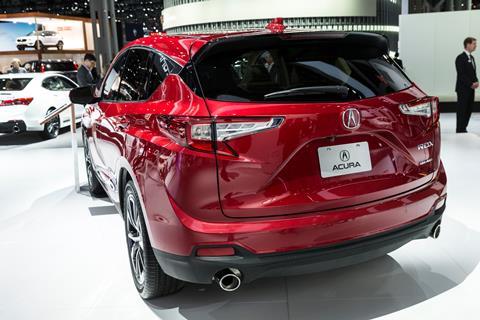 As of summer, 2020, Magna has manufactured 1.8 million liftgates – 40 unique liftgates/tailgates between prototypes and serial production programs. Magna's global manufacturing footprint – North America, South America, Europe and Australasia – means targeted regional solutions are possible.
Indeed, thermoplastics, with its capacity for innovative designs, unique surfaces and peerless detailing, can elevate a car from by-the-numbers ubiquity to something more expressive and refined. Highly adaptable, the material can integrate lighting innovations such as 'hidden till on' technology amid complex styling features. Factor in the seamless integration of sensor technology, which dispenses with the need for handles and can include useful additions such as cameras and it is clear why Magna should be the go-to for designers.
Thermoplastics are cost effective too – sharp detailing, undercut surfaces, tight radii require less cost and tooling when compared to metal. It is set to get more cost-effective as integrating more surface features into a single part reduces outlay. The product has been used on a variety of class leading vehicles: Acura RDX, Nissan Rogue, Jeep Cherokee, Toyota Supra and the BMW i3 to name a handful. The Acura marked the first time a power liftgate system and thermoplastic liftgate was supplied to an OEM.
Thermoplastics multiple design possibilities results in a much-improved user experience. For example, any kind of gesture sensors, kick under the liftgate, hand swipe, whatever the OEM requires – Magna is able to do it. In addition, ultrasonic/radar buttons can be eliminated, for greater seamlessness, a function not possible with a metal liftgate.
Owing to the lightweight nature of the material, about 20-30% lighter than the metal equivalent, which means a lower carbon footprint. This is coupled with greater aerodynamic possibilities: contoured sharper edges for increased flow separation and improved aerodynamics. The upshot is a reduction in drag, improved fuel economy and greater range for electric vehicles. Working with Magna means a one-stop shop for OEMs – the painted, finished and fully complete liftgate can be sequenced to the production line, no need to source multiple components from different suppliers. Though liftgates handily demonstrate Magna's breadth of expertise, the company's Magna's experience stretches well beyond this product to more far-reaching solutions. Magna also offers body exterior, electronics, mechatronics, active aerodynamics, and lighting.