Bigger and smarter flagship SUV features Super Cruise tech
Cadillac introduced the fifth generation of its flagship, the Escalade, on Tuesday, in a lavish Hollywood ceremony that included a short film by Spike Lee. The massive SUV will also be prominently seen on the red carpet at this weekend's Academy of Motion Pictures awards, known colloquially as the Oscars.
Cadillac has a lot riding on this latest upgrade. The Lincoln Navigator was introduced a couple of years ago to great acclaim after nearly a decade of neglect from the Blue Oval. The newly revived Navigator definitely pulled ahead in the big luxury arms race, but with this newest Escalade, let's just say The Empire Strikes Back.
The overall architecture looks the same, but subtle differences have improved things, especially for the passengers. The wheelbase is about five inches longer (!), and the addition of independent rear suspension (coils springs at the corners, with the elimination of the rear axle) makes for more interior volume, which is especially noticeable in the third row. This seat, the traditional "Penalty Box" of any SUV, is now actually comfortable for adults, who will also benefit from a greater glass area to relieve that nauseating feeling of car sickness so often suffered in rear seat caverns.
Four incredibly plush captain's chairs are placed in the second and first rows, with individual screens that can stream video of music or connect to devices with HDMI or USB connections, as well as Bluetooth, of course. The second-row passengers can interact with the navigation to check on the progress of the trip.
An optional AKG audio system with up to 36 speakers allows the Escalade to become a rolling boombox. Also available are onboard microphones so passengers in the third row can talk to the driver in a normal voice, with no cross-cabin shouting required.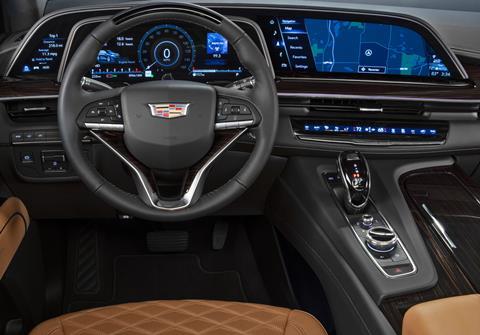 The instrument panel was a place that needed some upgrades, and it received a complete redesign. The previous generation was well-designed, but aging rapidly. And Lincoln had passed Cadillac on several tech fronts, but the Escalade has risen to the occasion with a new design that features an industry-first curved OLED screen. This screen integrates the displays – three of them – more fully into the instrument panel assembly and avoids that 'tablet-stuck-on-the-dash' look that plagues so many of today's car designs. It's a welcome look, one that we have been anticipating for years, and one that definitely predicts tomorrow's instrument panel design trends.
However exciting things are on the dash, the inclusion of the second-generation Cadillac's quasi-automatic pilot technology, Super Cruise, is the big tech news here. Super Cruise has been rated by some as more advanced than Tesla's system but it has a limited range, and was previously limited to the CT6 sedan – not a big seller in the marketplace.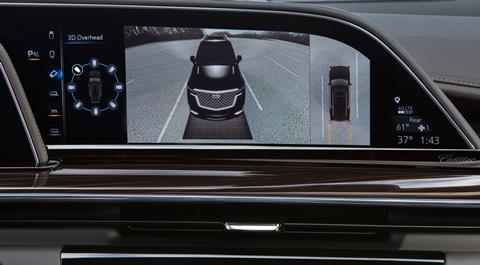 Super Cruise has its limitations (it is mostly limited to freeways), and the first generation could be blinded by the sun in certain situations. That problem has been eliminated and new features, as well as capabilities for travel on nearly 200,000 miles of divided highway in America make Super Cruise an even more formidable challenger to Tesla's Autopilot.
Cadillac has installed five cameras for Super Cruise and seven radar units for lane assist, parking, back-up, etc. This remarkable array of sensing technology was science fiction a decade ago but is now becoming standard on luxury vehicles and will eventually trickle down to the whole fleet of cars for GM and beyond.
All of this is underpinned by Cadillac's new Digital Vehicle Platform, which allows a much faster and robust in-vehicle networking with gigabit ethernet interfaces which will enable a number of advanced technologies. Among these is a support system for over-the-air firmware updates and enhanced security. This new architecture, which will be shared with Cadillac's siblings and eventually all of GM, will bring Super Cruise to every Cadillac model in the next few years.
Back at the exterior, there are few surprises as the Escala concept from 2016 continues to influence the design of new Cadillacs. The front mask in particular has already appeared on Cadillac's XT6, CT5, and CT4, and now makes its debut on the flagship. Massing, front lights, and character lines are similar to the XT6, although taillights and grille shape are a bit different on the larger Escalade.
Overall, the Escalade shows an evolution rather than a revolution, but with respect to technology, Cadillac's flagship shows a significant leap forward. Business-class comfort, already a strong feature of the Escalade has been similarly enhanced. There's no doubt it will be a strong seller in the premium SUV class and influence GM design and technology for years to come.
The press photos shown here, and supplied by Cadillac, were taken at Acido Dorado, a weekend house near Joshua Tree, California that you can rent for your own vehicle debut. Be sure to check out its dark evil twin, Rosa Muerte, which is also available nearby.